Energy Secretary Ernest Moniz Breaks Down the Science of the Iran Deal
Ernest takes us to science camp.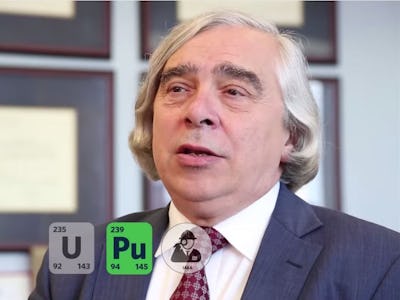 YouTube/The White House
The controversial deal brokered with Iran to keep the country from manufacturing nuclear weapons has garnered strong support from the scientific community: A panel of MIT experts concluded it was a positive, if imperfect start. In a widely-read letter, 29 prominent physicists and researchers — including six Nobel recipients — also lauded the move. Ernest Moniz might not have a Nobel, but he is the U.S. Energy Secretary and a trained nuclear physicist and he digs it.
Not only does the deal delay the time it would take for Iran to build a bomb, "we feel very, very sure that the plutonium pathway is well-blocked." In a new video from the White House, Moniz breaks down the science behind the agreement.
Check out the full argument below: