SpaceX Just Launched 3 Rhino-Sized Satellites on a Falcon 9 for Canada
One small step for quadrupeds...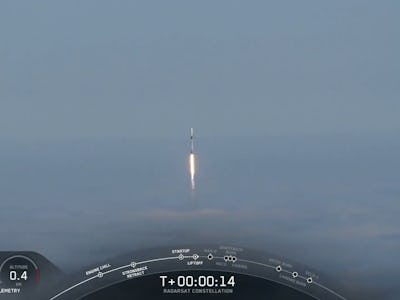 RADARSAT
SpaceX just launched three giant satellites into space for the Canadian Space Agency on Wednesday, each one the equivalent mass of a black rhino.
The RADARSAT Constellation Mission places three observation crafts into orbit at an altitude of 600 kilometers above the Earth's surface, moving at a speed of nearly 17,000 mph to circle the Earth in 96 minutes. The crafts each weigh around 1,430 kg (3,153 pounds) and will provide information on maritime surveillance, ecosystem monitoring, and disaster management.
Firing these three behemoths into space requires serious thrust, and the team opted to use SpaceX's Falcon 9 to complete the mission. The mission launched at 7:17 a.m. Pacific time from Space Launch Complex 4E at the Vandenberg Air Force Base in California. The satellites are planned for deployment around 54 minutes after launch.
Following the launch, the booster successfully landed at Landing Zone 4 at the Vandenberg Air Force Base. Reusing rockets is a key aspect of SpaceX's plan to reduce space travel costs. The booster used in this mission previously supported the Demo-1 test flight for the Crew Dragon in March, a flight that could pave the way for SpaceX's first manned flight later this year.
Rhino-Sized Satellite: What Does It Do?
The system is designed to capture measurements of both Canadian territory and maritime areas, measuring the Arctic four times per day, and cover daily access to 90 percent of the world's surface. MDA is the prime contractor for the project, but around 50 firms from around the world have participated in the global project.
The satellites will be able to help find ships, monitor the natural environment for changes, provide data on climate change, and even help emergency teams during natural disasters. The data provided may also help farmers track crop yields, measuring moisture levels in the surface-levels soil and assessing the health to ensure farmers don't waste fertilizer.
The crafts are hefty beasts, measuring 3.6 meters (11 feet 9 inches) high and 6.98 meters (22 feet 10 inches) wide at the furthest points.That means they're about as tall as two adults stacked on top of each other:
The three satellites use synthetic aperture radar to produce two-dimensional images, creating around 250,000 images per year.
Unlike an optical sensor that captures light, the radar produces waves to capture images. That makes it ideal for all weathers and seasons, but also means it can only make images when requested to conserve energy. The crafts have a fixed limit of no more than one image every 15 minutes. The images can take anywhere from 10 minutes to 24 hours to return to Earth, depending on the application and necessary resolution.
These image-making machines are designed for the long haul. The crafts will orbit 14,600 kilometers apart from each other, taking 32 minutes to reach each other. While they will take 96 minutes to orbit the Earth, each satellite will fly over the same point once every 12 days. Each craft is expected to last seven years.
The project has been a long time coming, with the plans submitted to the cabinet for approval in December 2004. RADARSAT-2, a single-satellite 2,200 kg (4,850 pounds) predecessor, launched in 2007 and helped influence the design of its successor. Both systems will remain operational, but the space agency moved ahead with this new launch to respond to growing needs.
The space agency explained that other national agencies, like NASA and the European Space Agency, operate similar observation satellites. But while these groups can pool their resources together to solve international issues, the crafts are designed with specific nationwide issues in mind.
As the crafts were initially designed with maritime tracking in mind, it's perhaps these areas where these space-bound rhino crafts will shine.