Pick Up These Incredible Finds This Summer
For wherever the summer wind takes you, make sure you have what you need.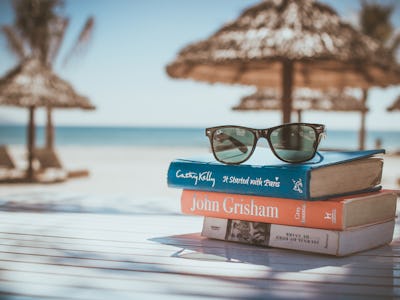 Unsplash / Link Hoang
Now that summer is well under way, curated lifestyle retailer, Huckberry has released their annual summer catalog this time focusing on Puerto Rico in the wake of 2017's back to back hurricanes of Irma and Maria. Affectionately titled, Making A Splash in Puerto Rico, the catalog features Puerto Rican products as well as essential items to bring with you should you make the trip.
Whether you are able to life the island lifestyle this summer or not, the addition of any one of the many beautiful items featured in Huckberry's summer catalog will brighten your home, wardrobe and more. So, take a look, you're sure to find something you love.
Want the footnotes? These are my 3 favorite items of the Catalog.
For Instagram-Ready Cocktails That Look The Part
Why We Picked It: Handmade in Guatemala, these handblown 6 oz juice glasses are the perfect size for summer cocktails. Finished with a blue rim of color, these glasses are ready for their Instagram debut featuring your favorite frozen strawberry margarita. When you're done, simply throw them in the dishwasher with everything else.
For Slipping On As You're Walking Out The Door
Why We Picked It: Everyone who knows me knows that I make my footwear decisions based on the ease of getting said-shoes on and off. So when it comes to the perfect summer shoe, I cannot recommend slip-ons enough, but sandals aren't for everyone. For an elevated but still summery shoe choice, look no further than Nisolo's Alejandro Woven leather slip-on—perfect for all the mornings you roll out of bed and walk out the door, you don't need a high-maintenance shoe.
For Traveling Light
Why We Picked It: One time I went on a camping trip and I didn't want to pack my usual maximalist wallet. Thanks to an earlier gift from my father-in-law, I had the above leather wallet in my possession. I picked my credit card, debit card and drivers license from my bigger wallet and carefully transferred them to the untouched leather wallet—I never transferred them back. Over 2 years later, this is still my go-to wallet perfect for slipping into a carry-on, backpack or backpack for convenient carry. Like all leather, it will get better with age and last you for many years to come.