4 Summer Essentials You Must Add
From sunglasses to sun hats and more, these are your summer essentials.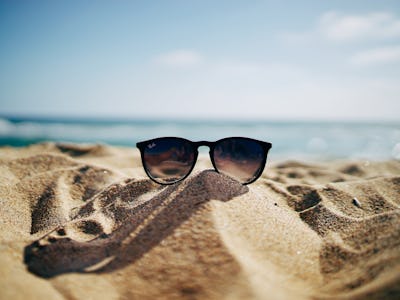 Unsplash / Ethan Robertson
From experience, I can tell you that the thing separating a good summer from a bad summer is the right gear. Gear is a fancy word for the right clothing and accessories and not just limited to athletes, movers and hikers. If you're spending any time outside—and that includes just walking to your car or the train—this summer, you will want to add these 4 essentials to your wardrobe. You'lll stay cool, protected from the sun and be able to handle the heat better than ever with these necessary additions.
Don't have a sun hat? Get one. Don't have sandals? You need them. Lacking sunglasses that are both stylish and functional? Look no further. Step into the summer making a splash with the right tools for the job.
The Sandals That Won't Slip Off Your Feet
Why We Picked It: Monochromatic black goes with everything. From legacy sandal brand, Chaco introduces the only sandal you need to have your best summer yet. You can swim in them. You can walk to the grocery store with them. You can hike in them and so much more, thanks to the renowed comfort and functionality of Chaco sandals. These all-black Chaco sandals feature ChacoGrip™ rubber outsole so your shoes remain secure to your feet while also maintaining excellent traction and LUVSEAT™ dual-density PU midsole provides arch support like no other sandal you've ever owned.
See Clearly With These Stylish Shades
Why We Picked It: If you're driving, walking, shmoozing or just tanning, sunglasses are the difference between squinting until your eyes and head ache and actually enjoying yourself. These affordable sunglasses will protect your eyes with 100$ full spectrium UV protection while the stylish circular frame will flatter your face and have you looking your best—without squinting. Sunski donates a portion of their annual revenue to beach environment initiatives like Save the Waves and Leave no Trace.
Stay Protected From The Sun With This Vital Hat
Why We Picked It: A good hat is just as important as sunscreen and sunglasses for staying protected from harmful UV rays. A bad sunburn and sun exhaustion can ruin an otherwise great day if you're caught unprepared. With The Forge Hat, you can easily pack a hat in your bag and take it out just when you need it. The adjustable chin strap will keep your hat secured to your head if you're boating, hiking or caught in wind while the 360° brim keeps the sun off your face and hair. The breathable construction allows you to comfortably wear it all day without overheating.
The Shorts That Are Made To Go From Wet To Dry
Why We Picked It: When you don't know what your plans are for the day or you simply just hate the feeling of being wet, these vintage sun-washed board shorts are both a stylish and functional option for summer clothing. With hidden back pockets and side pockets with advanced water draining technology, these quick-drying shorts can go from wet to dry in a flash for optiminal comfort.