Warby Parker's Home Try-on Program Lets You Try 5 Pairs of Glasses for Free
Try a Variety of styles shipped right to your door to find the pair that's perfect for you.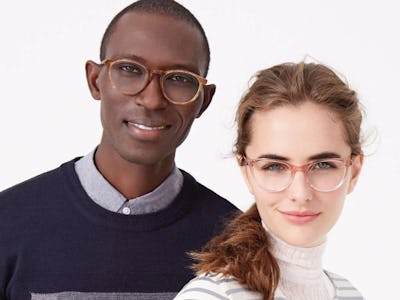 Warby Parker
We've all seen how the nerd archetype's been portrayed on TV. It's always a person in ill-fitting clothes, disheveled hair, and glasses. However, it turns out that stereotype might be right. A new study found that people with a higher level of intelligence really do tend to wear glasses, at least according to information gathered by researchers at the University of Edinburgh. They found people labeled "intelligent" are 30-percent more likely to inherit genes related to poor eyesight. So if you happen to be one of these intelligent yet visually challenged people, why are you still buying expensive eye-glasses at a brick-and-mortar store like a dullard? Start putting your inherited intellect to good work and buy your eyewear from the comfort of home with the Warby Parker 5 pairs free home try-on program.
When it comes to the perfect frames, there's no reason why you should be hassled with having to choose a pair after wearing them for only a few minutes. Thankfully, online shopping has revolutionized how we make our most intimate purchases, which is where Warby Parker comes in.
With Warby Parker, you never have to stress about which glasses look and feel best on your face. They make picking glasses fun and easy. You start by taking their quiz to discover which frames will work best for your face. After answering a variety of questions, you're presented with a collection of glasses and/or sunglasses tailored for your face, needs, and preferences. Then you pick five frames that WP will mail to you for free.
All you have to do is spend five days trying them on for free to see if they work for you, and then return them with the included free shipping label. Once you know which pair you have to have, you purchase them for $95 or pay over time with Affirm, whichever works for you and your budget. Then Warby Parker gets to work making your glasses especially for you.
Warby Parker was founded with a rebellious spirit and a lofty objective: to offer designer eyewear at a revolutionary price, while leading the way for socially conscious businesses. The founders of Warby Parker discovered an entire market that wasn't being catered to and in that, they've been able to change the eyewear industry. Because it's been dominated by a single company, prices were kept artificially high.
This means consumers were exploited so that the company could rake in huge profits. By circumventing traditional channels, designing glasses in-house, and engaging with customers directly, Warby Parker has been able to revolutionize the process of purchasing glasses. This means you're able to obtain higher-quality, better-looking prescription eyewear at a fraction of the going price. Who can argue with that?
Don't sacrifice style and price for your ability to see clearly. You're smarter than that, science says so. Take the quiz on Warby Parker now to know which frames suit your needs. It's the most intelligent way to ensure you're buying the right glasses.