5 Pieces of Camping Gear You Need to Have This Summer
The camping gear you need to be one with nature.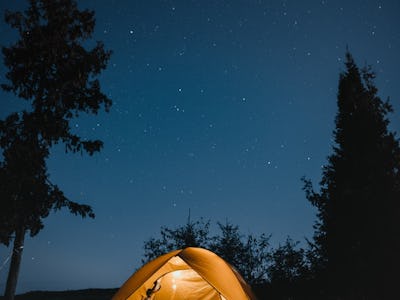 Unsplash
Summer seems to be the season where everyone wants to rage against the polar vortex. With the official start of summer right around the corner, you may be looking to get out and enjoy nature's softer side. No doubt your mind is conjuring up images of camping out, feeding the wildlife and sleeping under the stars. While there's no better way to enjoy the great outdoors than camping, you may want to put some extra thought into the gear you choose for such an event. If you're in the throes of planning your next camping trip here are 5 pieces of camping gear you need to have this summer.
You might feel a bit silly wearing a headlamp, but when you're out camping you will quickly find that it just makes good sense. The great thing about headlamps is that they point directly where you are looking, no wayward hands leaving you in the dark. If nothing else, headlamps tend to be quite useful for midnight potty breaks in the wild, leaving your hands free to take care of other business.
SE All-Weather Magnesium Firestarter Kit
We all remember that scene from Castaway, right? Well, the good news is if you're prepared you can save yourself the hassle (and the blisters) by having your own firestarter. Sona Enterprises All Weather Magnesium Fire Starter Kit could be the lifesaver you're looking for. It's a compact, magnesium bar and flint that is waterproof and weatherproof.
AeroPress Coffee and Espresso Maker
Stop if you've heard this one: if you're in the forest and there are no baristas around, can you still get a cup of coffee? With the Aeropress coffee maker, you can. Coming in at just over five inches in height, the Aeropress is compact and portable making it the ideal camping accessory for your daily java fix. The Aeropress makes 1-3 cups per press, in under a minute and the microfilter ensures that there's no grit in your cup. You're welcome and cheers.
If you're going camping then you most certainly need shelter, if you're doing it right anyway. The Core 9 Person Cabin Tent ensures that everyone in the family is tucked in tight and the detachable room divider also gives you some degree of privacy. The Core cabin tent allows for a quick setup and the detachable rainfly lets you feel like you're sleeping under the stars.
Thermacell Portable Mosquito Repeller
The only thing worse than an uninvited guest is an uninvited guest who brings their buddies. We're looking at you mosquitos. Sure camping is our way of getting closer to nature, but we still have our boundaries. The Thermocell mosquito repeller creates a 15-foot invisible barrier the keeps mosquitos away for 12 hours. No unpleasant smells, oily sprays or dangerous chemicals. The Thermocell mosquito repeller is safe effective and easy to use.