Joaquin Phoenix to Reunite With M. Night Shyamalan in New Movie 
Could this be what we need for a Shyamalan resurgence?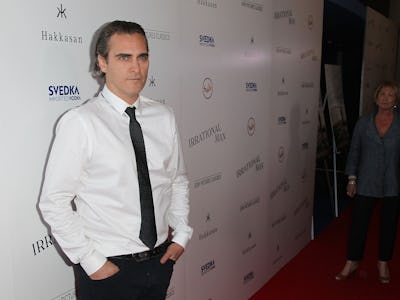 Getty Images
Let the Shyamalan-aissance begin. Deadline is reporting that actor Joaquin Phoenix is in talks to star in a new thriller by director M. Night Shyamalan.
Details about the previously announced new project have been kept under wraps, but the plot will allegedly deal with the supernatural. Production is scheduled to start in November in Shyamalan's hometown of Philadelphia. Producer Jason Blum, who worked with Shyamalan for his upcoming film The Visit, is also on board.
This bit of casting news is reassuring for those precious few people (me included) still pulling for Shyamalan to deliver another memorable movie after a string of high profile mega bombs. Anyone willing to forgive him for Lady in the Water, The Happening, The Last Airbender, and After Earth should be at least a bit thrilled that Shyamalan is reteaming with Phoenix. The actor previously appeared in two of the director's biggest hits with Signs in 2002 and The Village in 2004. The casting and the fact that Shyamalan is going back home where many of the early hits took place could be just what he needs to recapture a bit of that old spark.
The budget of the new untitled movie will be on the low end, similar to what Shyamalan did with his self-financed The Visit. This should also give the director a little more autonomy than his last blockbuster failures. Couple that with Blum's ability to turn low budget genre fare into massive success stories and we may have the ingredients we need for a full on Shyamalan resurgence.
Before we get ahead of ourselves, a lot of the anticipation for this new film will be judged on the critical and box office performance of The Visit. That movie had some good buzz out of Comic-Con and is tracking well before it hits theaters on September 11. In the meantime, at least Shyamalan is surrounding himself with the right ingredients for his potential comeback.