Amazing Tech Gifts for Dad This Father's Day
Get your guy a Father's Day gift he'll actually use.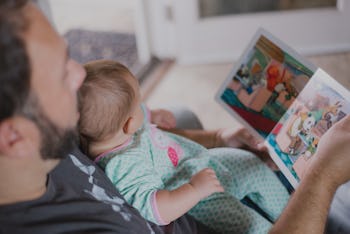 Unsplash / Picsea
I don't know about anyone else, but Father's Day is one of the most difficult holidays to find a good gift for. For my father-in-law, we usually opt for some kind of dinky as-seen-on-TV gadget that he'll think is cool as heck, but will never use. For my father, we usually get him exactly what he wants and nothing else and that's a carton of cigarettes. But I'd be lying if I said that these weren't throwaway gifts.
The men in our lives are so often low maintenance—unaware of what they actually want or need—so gifting to them can seem near impossible. Rather than be a mindreader, I've scoured the internet to find some of the actual useful items out there than he might actually use. Dads love new technology more than anyone I know.
Below you'll find some of the best tech gifts you can give your dad for Father's Day this year so you're not like me and gifting throwaways, hoping that the thought is enough.
For The Dad Whose Phone Battery Is Always Low
Why We Picked It: If the guy in your life so often complains of a dead or dying phone, the best gift you can give him is this protective battery case. Add up to 24 hours to his phone's talking time, 6 hours of gaming, 20 hours of web browsing, 18 hours of video or in the case of al men in my life, the little extra juice they need to power their GPS directly to their destination.
For The Dad That Struggles To Capture Good Pictures
Why We Picked It: We've all seen the Facebook posts circulating begging fathers to capture more photos and videos of the mother of his children with his children, but not all dads are good at taking pictures. If this sounds like a dad you know, the DJI Osmo Pocket takes the skill and guesswork out of taking great photos and video. With a 3-Axis mechanical gimbal, the Osmo Pocket is great for pointing and shooting so that your memories can last longer than the second it takes to make them.
For The Dad Who Misplaced His Headphones
Why We Picked It: If your dad frequently loses his headphones, doesn't have a good pair or simply has owned his current pair longer than should be acceptable, gift your dad this wireless upgrade. They pair with any bluetooth compatible device including smartphones and computers alike and deliver great sound without needing to be plugged into the device. They have up to 8 hours of play time and a Bluetooth range of up to 10 meters so he doesn't even have to take his phone out of his gym bag anymore.
For The Dad That Loves To Host and Enjoy Outside
Why We Picked It: I don't know about anyone else's dad, but for my dad, one of his favorite things to do is sit outside, grill, listen to music or whatever sports' game is on that day. Because my dad's old school, he usually listens on a radio and frequently the sound quality is fuzzy, cuts out or ill-equipped for the outdoors. These outdoor speakers breathe new life into what it means to listen to audio outside. Mounts easily vertically or horizontally and can withstand extreme temperatures and heavy rain for years.
For The Dad Always Fussing With The Thermostat
Why We Picked It: I think it's just a dad thing to have a thermostat complex. If your dad is like many others, this learning thermostat might give him the blood pressure break he deserves. Nest learns your preferences and works to save energy and keep your house as comfortable as you would like it to be.