5 Smart Home Products You Should Add to Your House Right Now
Get these smart home items before anything else.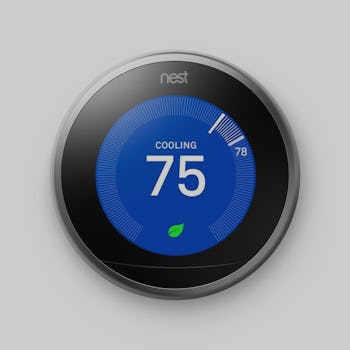 Amazon
Smart items are a dime a dozen these days, but only so many will be used often enough to make a genuine impact. While there are very novel items out there that overpromise and underdeliver, we'd suggest that if you're looking to make your house or apartment a smart one, start with the essentials. Otherwise, you may end up with a bad taste in our mouse. Here are 5 smart home items you should add to your house right now.
Smart assistant
It's just a given at this point. Not only are smart assistants like Amazon's Alexa and Google Home helpful in giving you information about the questions you ask and play your music, but they can become the hub of your smart home. Most major smart home items are integrated with both Echo and the Google Home/Nest lineup, so there will be little reason to reach for your phone or tablet again to control your home.
Smart lights
Smart lights are a good first smart home item for a lot of people because they provide immediate impact. You use them everyday and once you get used to controlling your lights with your phone, your voice, or by setting a schedule via the app, it's going to be very hard to go back.
The leader of the smart light pack is Philips and it will likely maintain its lead for the foreseeable future. Philips Hue offers a robust ecosystem of lighting, with multiple bulb options and even outdoor lighting. There are other great smart lighting systems available, like LIFX, which has some added benefits, but it'll likely stay in the shadow of Philips forever.
Smart plugs
Another essential item is a very simple one: Smart plugs. The best way to use them is to plug devices that have on/off switches on them and leave them in the "on" position. From there, once plugged in, the smart plug controls the electrical flow and you can turn the item on and off with your phone or your voice via smart assistant. Smart plugs are great for things like fans or older coffee pots and other appliances you may want to control with a tap.
Smart thermostat
One of the oldest smart items of them all seems to be the smart thermostat. They're becoming more and more common and while there are several options to choose from, just like Philips in smart lighting, Nest leads the pack in smart thermostats. Nest was one of the first, so it's going to be a name someone knows before any other option out there.
What helps Nest stand apart from some of the others is its ability to learn your habits and schedule, from which is will begin to automatically adjust. Just like most other smart items, you can control the Nest thermostat via app or voice via smart assistance. This should come as no surprise, given Google just rebranded its Google Home Hub to Google Nest Hub and introduced a Google Nest Home Max, both of which are smart speakers with touchscreen displays.
Smart lock
While some may be skeptical about the idea of having a smart lock, it's something you're probably going to use every single day, so it can be considered an essential item.
August is the king in the smart lock world, offering multiple versions in various prices. It easily installs over your existing deadbolt lock, so you can continue to use your old keys. Once installed, you can grant keyless access to people indefinitely or for a certain amount of time. It also lets you keep track of all the locks activity and you can monitor who is coming in and out of your house while you're not there via the app.