5 Entertainment Centers That Will Upgrade Your Viewing Experience
Turn your living room into a veritable theater.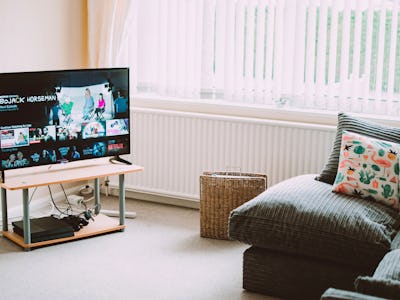 Pexels
Everyone gets excited over a new TV, Blu-ray player, or video game console, but not enough attention gets paid to the furniture you need to hold them. The entertainment center might seem archaic when ultraslim, wall-mountable TVs are all the rage, but if you're a big A/V connoisseur things can start getting crowded real fast.
Those huge cabinets your grandma uses to hold her tube TV don't make the best entertainment centers anymore. Instead of closing up your TV when you're not using it you want something that accentuates your choice in A/V equipment and gives you the room and expandability you desire. Fortunately, there are plenty of products that offer a modern take on a living room staple.
1. Modern Craftsman Distressed Oak 3-Piece Entertainment Center
I have an ever-increasing amount of devices in my living room, and what was once a more than adequate entertainment center now spills forth with cords and consoles. If you suffer from the same ailment, then the Modern Craftsman Distressed Oak Entertainment Center might be what the doctor ordered.
This product is split into three pieces that can be put together to form a unified entertainment center, or the two end towers can be placed apart from the main console. The central unit can accommodate TVs up to 60-inches, and even if you don't have enough to fill all that space now, you'll have room to grow.
2. Barnside Metro Gray Entertainment Center
The Home Styles Barnside has a similar profile compared to the previous entry in our list but is much larger. This entertainment center is for those who have massive amounts of equipment to hook up, and you can easily arrange even a large collection of video game consoles, an A/V receiver, some speakers, and even some media and have room to spare.
If you continuously find yourself in need of more space, you may want to look into the Barnside. It accommodates TVs up to 60-inches, and you'll have the room you need to expand and grow for years to come.
3. Walker Edison 42" Highboy Style Wood TV Stand Console
The Walker Edison Highboy TV Stand differs from most entertainment centers in that its more vertical than horizontal. This means it's probably not ideal for your primary living room fixture. That is unless you're keeping your setup pretty sparse.
Instead, we recommend the Walker Edison Highboy for a secondary entertainment center. It's smaller than average footprint means it's excellent for bedrooms or dens and might be perfect for you if you find the typical TV stand to be too large.
4. Contemporary Entertainment Center in Nature and Onyx
Contemporary Entertainment Center in Nature and Onyx
Sometimes you just want to roll the TV out of the way, and that's entirely possible with the Manhattan Comfort Contemporary Entertainment Center. This minimalistic stand still offers the same space as your average entertainment center, but also includes casters that allow you to roll it wherever you need.
This is an excellent pick if you have a house or apartment with an open floor plan. You can roll your TV wherever you want to watch it and only have to worry about investing in one entertainment setup.
5. ACME 12163 Dresden Entertainment Center
On the opposite end of the spectrum from "minimalistic" is the Acme Dresden. If you're feeling particularly Baroque, then there's not a lot of choices when it comes to an entertainment center.
Fortunately, Acme has you covered if you're looking to match your TV stand with some antique decor. The wood carving looks , and it even has ball and claw feet. It's a real conversation piece, and its unique design makes it stand out from the competition.