Jim Parsons Is TV's Top-Paid Actor Because 'Big Bang Theory' Offends No One
Aiming squarely for the fat middle of the bell curve.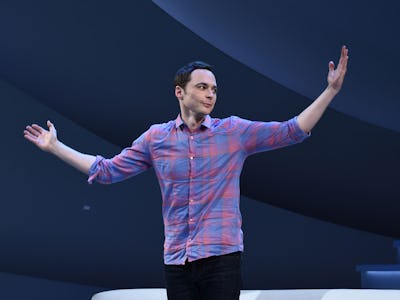 Getty Images
Forbes just released its annual list of TV's highest paid actors, and the man pulling in the most money also, unsurprisingly, leads the cast of TV's highest-rated sitcom. Jim Parsons, the stringy comedic actor who plays theoretical physicist and nerd king Sheldon Cooper on CBS's The Big Bang Theory, tops the list with $29 million in earnings for the year. This makes perfect sense. In a fractured, long-tail entertainment landscape, he perfectly embodies a show that tepidly puts the mass in mass appeal.
Following a highly lucrative contract negotiation with the network, Parsons is reportedly earning $1 million per episode and just over a 1 percent cut of the show's bank-end profits. The current Emmy winner for Best Lead Actor in a Comedy Series leveraged his persona as Sheldon to land a nigh-ubiquitous series of Intel ads and a role in the Broadway show An Act of God. His income jumped $17 million from last year, when he ranked seventh. Leading the pack in 2014 was an actor from another Chuck Lorre-produced sitcom: Ashton Kutcher, on Two and a Half Men, raked in $26 million.
So why has Parsons, of all dweebs, shot to the top? Past highest-paid actors, Kutcher included, were stars who had already transcended sitcoms. Former top earners Jerry Seinfeld, Kelsey Grammer, and Tim Allen played tough guys or savvy characters. (Notably, those performers all played performers on their respective shows.) Parsons's Sheldon is a quippy, neurotic nerd with a catchphrase — basically a geek-chic Urkel. That unassuming appeal says something about the his audience.
The bulk of The Big Bang Theory viewers are middle-America average joes who apparently prefer their comedy squarely middlebrow and inoffensive. For this, Parsons is perfect. His Sheldon is an affable and obviously brainy sort whose clipped, quick diction suggests that whatever he says will go over your head. Ultimately, very little does. The jokes on The Big Bang Theory are a bland pudding of alleged zingers that are in fact funniest/saddest when the show's laugh-track is muted.
This isn't to take anything away from Parsons as a performer; he's obviously a talented guy, with four Emmys to prove it. He's the best part of a sitcom that, aside from its enduring ratings, doesn't have much else to recommend it. But to see him at the top of the list of highest-paid actors — like previous title-holder Charlie Sheen — doesn't mean he's doing the best job on television. Audiences love him because they make them feel happy for a millisecond before moving on to the next predictable quasi-quip. That in itself is a fine talent, with a great deal of value.