Easy Upgrades That Will Make Your Living Room Really Come Together
You live there, so your living room should represent you.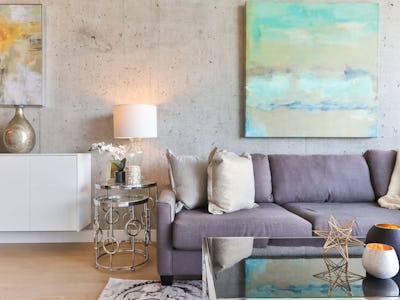 Unsplash / Sidekix Media
It's easy to complete a move into a new space and find the next rest of forever just feeling glad that you accomplished that. But once the days turn into weeks and the weeks turn into months, push comes to shove and your friends' spaces have taken shape a way yours has not, you might want to consider decorating. It sounds daunting. Even for the seasoned decorator, it's easy to get overstimulated by all the options and directions possible.
But this isn't an article about re-doing your entire living room. This is an article about a few necessary details that will personalize your space, make it unique to you and establish a basis of nesting that allows you to feel more at home than ever.
Below you'll find a few items that will enhance your space, bring some personality into it and give you a jumping off point for any and all future design choices.
Finally A Place To Put Your Keys and Mail
Why We Picked It: One of the best housewarming gifts I ever received was a mail and key holder just like this one. We have a weird expanse of wall right by our front door that wouldn't fit most normal print sizes or wall art and we lacked a convenient place to keep our keys and sort our mail. Now we're more organized than ever. The wall doesn't look bare and we're so often asked where we found such a great item.
For The Corner You Have No Idea What To Do With
Why We Picked It: If you, like us, have more knickknacks than you know what to do with, chances are you've been on the hunt for some worthwhile shelving options. When we moved into our current home, my partner and I had boxes upon boxes of stuff that simply did not have a place to go because we didn't have shelving installed yet. This 5-tier corner shelving unit from Greenco comes in 5 finishes including Espresso, Grey, Natural, Walnut and White to match whatever look you're going for.
The Lamp That Isn't Limited To Where Your Outlets Are
Why We Picked It: Lighting is one of the difficult things to select for a room. You need it but anyone can have the same $20 lamp from IKEA and call it a day. If you're interested in stepping beyond that, or you have a room with a lot of inconvenient outlets, this LED book light can fill a room with 250 lumens of warm light and provide 8 hours of continuous light off a single charge. All guests will be amazed and should you go camping, have a power outage or just want to bring a light outside, the Lumio is fully portable and super strong magnets will allow you to attach it to most metal surfaces.
For the Bare Floor That Could Use A Little Help
Why We Picked It: Nothing pulls a room together or gives it style direction quite like a rug. This neutral, one-of-a-kind vintage rug option will add much needed warmth to any bare floor and allow you to have a jumping off point for any and all future aesthetic choices. Being one-of-a-kind, there will be no one on the face of the planet quite like your rug and thus, no one will have a living room just like yours.
To Begin [Or Add To] Your Art Collection
Why We Picked It: If your walls are bare or you're just looking to add to an existing gallery wall, this tree stump print is made by Erik Linton with an actual tree stump. Adds beautiful charm to any space without overpowering the room or pinning you to a corner with style direction, this black and white print is the perfect addition to a room in dire need of new art.