These 5 Phone Cases Will Protect Your Phone Against Almost Anything
Don't lose your new phone to an accident. Strap on some protection. Do it now!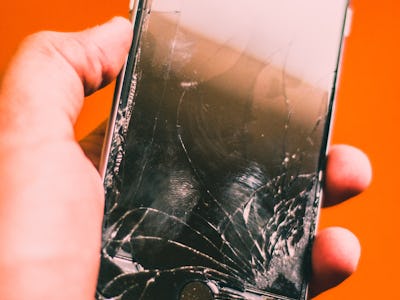 Unsplash / Hardik Sharma
How many times have you nearly dropped your phone… just today? How much will it cost to replace the screen when you do, finally, drop it? These are important fiscal questions. Have you asked them?
I'll wait while you look for answers.
Okay, so now it probably doesn't seem too expensive to get a solid case that will protect your phone from whatever happens. It seems crazy, we know, to have a beautiful piece of technology all covered up. But that's just the way the world is right now. Some day in the future, maybe that will no longer be true.
Today, pick one of these awesome phone cases and protect your investment — and your lifeline — from the hazards of daily life.
If your life is rough and tumble, this is the case for your new iPhone. This case offers some serious drop protection. And it doesn't mind looking like it takes its role seriously. Plenty of colors. Dust and scratch protection. So go ahead. Go to work. Take your phone with you when you bike. Don't worry.
If that rough and tumble life of yours takes you near water, consider the Lifeproof FRĒ. It will protect your new phone from drops and scratches, even if those drops include you falling into a body of water with your phone in your pocket. Or, as most people have already learned the hard way, out of your rear pocket into the toilet. Because when you have to reach into that mess to retrieve your phone, it's bad enough. If you reach into that to retrieve a phone that's now dead, it's adding injury to insult.
If you are going to get a phone case that can protect your phone from bad things, shouldn't it look bad ass while it does it? We think so. And so does Under Armour Gear. This phone looks like it has been tested by the military, it's so bad ass. In fact, this phone has been drop-tested by the military. Or rather, since they probably don't actually do the testing, it exceeds military drop-test standards.
That grippy exterior feels good in your hand. So feel free to take it into whatever action you take on. It can handle it.
You want tough. But without the bulk? This Spigen Touch Armor case is built to keep your phone surviving. But it's slender and attractive so that if your life outside the office is full of wild adventure but you don't want the people at work to think you are that guy who spends his weekends in his belly in a duck blind, go with this. It comes in lots of cute colors, too. And it's a bit cheaper.
Spigen Tough Armor [2nd Generation] Designed for iPhone 8 Case/iPhone 7 Case
Spigen Tough Armor [2nd Generation] Designed for iPhone 8 Case/iPhone 7 Case
Wrap your phone in solid protection at a price that allows you to change the color once in a while, just for the sake of fashion. You aren't that military guy. You don't want to take your phone into the drink. You just want it not to be a disaster if you lean over too far and it drops from the inadequate pocket of your skinny jeans. It comes in lots of colors, there are versions for lots of phones. And it has a handy belt-clip holster if you feel the need to go full dork.