The Best Air Purifiers to Clean Your Home of Harmful Bacteria
Clear the hair and your lungs with these air purifiers.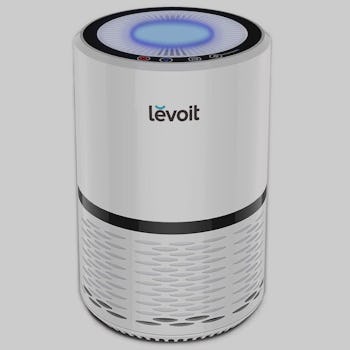 Amazon
Clean air shouldn't be hard to come by, but it's true that there are pollutants big and small that need to be filtered for us to receive cleaner air. Luckily, it's a bit easier to control in your own home, thanks to air purifiers. These filters help get rid of oder, smoke, mold, and are helpful for people with allergies and more. The only problem is that they can get pretty expensive, so you will want to know you're getting your money's worth. Here are some of the best air purifiers you can get on Amazon.
LEVOIT Air Purifier
A popular option for purifying the air in your home space is from LEVOIT. The air purifier offers up a three-stage filtration system, consisting of a Pre-Filter, TRUE HEPA Filter and Activated Carbon Filter that helps get rid of up to 99.97% of pet dander, dust, pollen, smoke, odor and mold, which is impressive. This can markedly improve the wellbeing of people with allergies, allowing you to breathe fresh air at home.
LEVOIT is quick to make mention that UVC lights from other brands can produce trace amounts of ozone and that their own air purifier is 100% ozone free.
GermGuardian AC4300
Another great air purifier comes in the form of the GermGuardian AC4300. Great for people with pets or allergies, it comes with a 3 in 1 HEPA + Pet Pure Treatment Filter is in place to remove several types of pollutants, germs, and more in the air. There's also an optional UV-C light that helps reduce other airborne bacteria and more in the air. It's nice to see that this is an optional method, as if it can produce ozone, as the above option claims, it could turn some people away.
The GermGuardian has 3 different speed settings and can filter and circulate a 153 square-foot room 4 times in one hour.
Coway Airmega 300 Smart Air Purifier
If you're OCD, have a large home, or just don't want to wait very long for your air to get filtered, the Coway Airmega 300 may be what you've been looking for. Designed for rooms as large as 1,256 square feet, this isn't an air purifier for a closet. With the power under the hood, you'd better expect to pay the premium for it, too. Like the other air purifiers, the Airmega 300 can reduce 99.97% of particles in the air and "99% of volatile organic compounds and reduces fumes such as NH3 and CH3CHO."
The Airmega 300 offers up multiple speed settings: Smart, sleep, low, medium, high. The "smart feature" is impressively useful and will automatically adjust the speed of the fan depending on the air quality and lighting conditions. Another nice feature to have is an always available air quality rating is available, indicated by an LED ring that lets you know how clear or dirty the air is in the room in real-time.