Now You Can Try Philo Streaming Free for 7 Days, No Credit Card Required
Start your Philo free trial with just your phone number.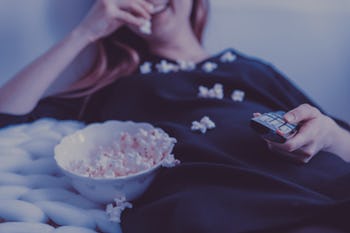 Unsplash
More and more people are cutting the cord and ditching their cable subscriptions in favor of leaner, more affordable online streaming services. But there are a few things you lose in the bargain, like being able to watch live TV and recording shows and movies with a DVR. However, now you can do all that and more with Philo, and at a price that undercuts even the most basic of basic cable packages.
Philo, as you might have already guessed, is a streaming service that allows you to sidestep an expensive cable package while continuing to keep up with all your favorite shows. It offers 58 total channels available to stream live or record and watch at your leisure, including AMC, Comedy Central, IFC, MTV, Nickelodeon, and many more.
Start Your Free Trial Without A Credit Card
At $20 a month, Philo is a bargain even without a free trial. But now you can start a Philo free trial for [7-days](http://www.dpbolvw.net/click-8753476-13269137), and all you need is a cell phone number. It works like this: Start the trial by providing your phone number, then in a few days, Philo will contact you for your billing info. Provide it to unlock the rest of the free trial.
Unlike your local cable company, there's no contract and no commitment to use Philo. All you need is a compatible device (Amazon Fire TV, Apple, Roku TV, or Android), and be willing and able to watch plenty of programming.
Stream Live Or Record And Watch Later
Just like regular cable, you can enjoy Philo's generous channel lineup live as it happens, or select shows to record and watch up to 30 days later.
Works On Up To Three Devices Simultaneously
You can watch up to three different shows or three different channels (or, for whatever reason, the same shows or channels) at the same time on up to three different devices.
So if you're ready to give Philo a try, check out its official site here and start your free week right now.