The Best Rated Messenger Bags on Amazon
These messenger bags are the bested rated lot on Amazon.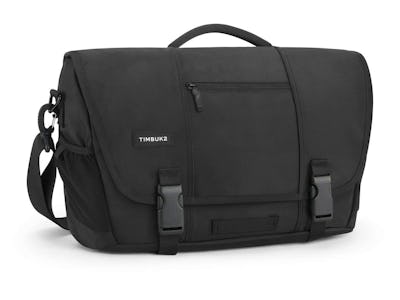 Amazon
Messenger bags weren't just the cool middle and high school way to carry your books that ultimately destroyed your shoulders after prolonged use. They're still fashionable today and make great companions to carry your laptop or tablet. The over the shoulder bag hasn't evolved much in the past 15-20 years and that's just the way we like it. So, whether you're looking for a new day bag, grab a piece of physical nostalgia, or looking for a genuine alternative to the everyday, two-strapped backpack, check out some of the best rated messenger bags on Amazon below.
Leaper Retro Messenger Bag
The Leaper Retro doesn't come to mind when you think of messenger bag, but it's best selling messenger bag on Amazon. The single strap bag looks like a vertical messenger bag in a way, and is available in two sizes. It's a fairly small bag — even the "large" variant is only capable of carrying a 13-inch laptop, so it's firmly in the "light travel" category.
The Leaper Retro definitely seems to capture the retro part on the nose, even down to the colors on offer. It's made of canvas, and has two leather-esque buckles secure the front flap, which conceals two storage pockets. This is in addition to the primary compartment for carrying your laptop, which is a zipped closure. There are also a handful of small pockets for your phone and other small accessories, allowing you to carry more than you'd think, given the footprint of the bag.
Egoelife Canvas Satchel
If you're looking for a simple messenger bag without a ton of bells and whistles or you're trying to look like Indiana Jones' apprentice, the Egoelife Canvas Satchel is for you. It's incredibly cheap, coming in at around $25, but with over 700 reviews and a 4.5 star rating, it's easy to see that it checks the right boxes.
There are only a few places to store items on this bag, which means less places to lose things. The flap that covers the main compartment houses a small zipper pocket, and when said flap is lifted, it reveals the primary compartment and two additional pockets on the front. Given the price point, don't expect much else, like padding for your laptop. Available in two colors (black and Coffee), this looks to be a solid option if you have your expectations managed.
Timbuk2 Commute Messenger Bag
If you're looking for a great messenger bag for your commute, look no further than Timbuk2's aptly-named Commute Messenger Bag. This is a straightforward and modern messenger bag that offers ample storage, including more than 10 different pockets throughout. Primarily constructed out of oxford nylon and the inner compartment is made from a TPU lining for easy cleaning.
Available in three sizes and multiple color options, Timbuk2's Commute messenger bag is likely the best for most people.
Samsonite Colombian Leather Flap-Over Messenger Bag
If you're looking for something a little more traditional, professional, or just plain fancier, Samsonite has you covered. Its Colombian leather flap-over messenger bag is beautiful and high-quality. Available in brown and black leather finishes, both of which look great.
The bad should be able to withstand a fair amount of wear and tear — the main compartment is zipper sealed and can hold up against dirt and moisture. Able to fit up to a standard 15.6 inch laptop, along with other computer and business essentials, storage options are not lacking. There's even an additional rear pocket for storing files or magazines.