Adultify Your House With These Chic Home Decor Essentials
Turn your home into your personally curated paradise with these must-have home items.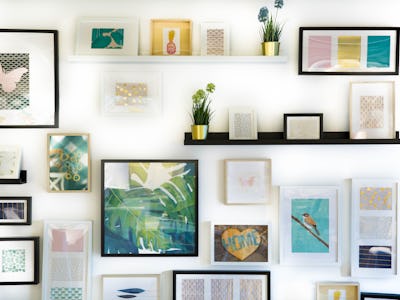 Unsplash / Jonny Caspari
So you've moved out of your parents' house and now you live on your own. Whether you've been doing it for a week or for a decade, everyone's home could use a decorator's touch. If you're like me and kind of just like to wing it and just kind of browse until you find your newest piece, decorating can be a personal adventure in developing taste and occasionally stepping back and realizing you've done too much. But that doesn't work for everyone and if you're planning a get together, or your parents are coming to town, or you're just in a rush to finally have a space feel like it's yours, you might want a quick fix.
That's where I enter. Below you'll find my home decor essentials that I feel upgrade any space they inhabit. With the addition of even one of these Ally-deemed must haves, your home will go from meh to chic.
For Your Empty Hallway
Why We Picked It: Rugs are expensive and often forgotten elements of home decor. If you have an empty hallway or bare floor, the addition of a rug will warm up the space immediately and bring missing charm as well as personality. Revival Rugs focus on making the addition of one of their rugs an experience unique to you. All rugs are handwoven and handknotted in Turkey and restored with specialized methods to bring a raw, yet refined personality to any home.
For Everything That Doesn't Have A Place To Go
Why We Picked It: In every house, there are odds and ends that just haven't found a good home yet. For me and my partner, it's our offseason clothes, suitcases, backpacks and art supplies. We have more than any household needs and still, we don't have a good place for it. If you remember moving into college dorms, this is likely a powerhouse you remember. The sturgdy steel frame, reinforced wheels and No. 8 duck canvas liner are meant to handle heavy loads of anything you put in them and unlike many hampers, bins and storage containers the Steel Canvas Square Truck is not unsightly and ads rustic pizazz to any space without taking away from your existing decor.
For Bringing Your Bike Into The Fold
Why We Picked It: If you have a bike or use a bike, chances are you have struggled with bike storage at one point in your life. With the simple addition of this Loma Living Burnside Bike Rack Shelf, you can conveniently store your bike on any wall and turn it into a focal point of your space. The pure mahogany wood construction adds a certain earthiness and character.
For The Room That Still Doesn't Have A Lamp
Why We Picked It: Choosing a lamp for any room can be a daunting task, especially if you don't know what you're looking for. This minimalist moon light is up to the task and provides illumination without overpowering your side table. Can be used wirelessly anywhere in the house for up to 8 hours of localized light or plugged in via AC power for allday use. Choose for 5 different light patterns and 16 different colors for whatever effect you seek and use the remote to control it so that you don't even have to clap your hands to turn it off.
For Showing Your Mom You Have Grown Up
Why We Picked It: If you are grown up enough to own a coffee table, you are grown up to own some coasters and prove to your mom that you officially grown up. What better way to make your foray into adulthood than with these one-of-a-kind leather trimmed Persian rug coasters. They're warm yet casual and make a worthy accesory to any existing aesthetic.