3 Pieces of Travel Gear Everyone Needs
This travel equipment will help make your next trip a pleasant experience.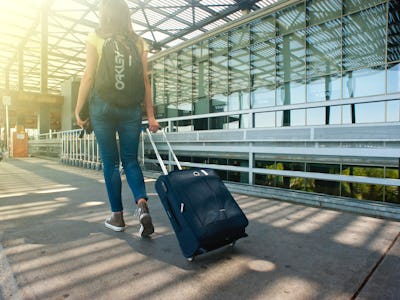 Pexels
Looking to embark on your next great adventure? Don't hop in the car or catch your next flight without grabbing these essentials for both long and short trips. If you continually find yourself running out of space with the luggage you've chosen or that cheap bag you've stuffed with supplies is falling apart, it's time to upgrade. And no one would blame you for dropping some cash on something more appropriate for your trip.
The next time you head out on a cross-country flight or pack for a weekend with the family at the beach, reach for one of these travel essentials and see how much more pleasant the entire trip becomes once you've packed accordingly.
Looking for the perfect bag for a weeklong stay? It's time to upgrade your old duffel bag. Nomatic's 40L travel bag features a variety of different options to keep you feeling comfortable and your stuff handy at all times. The hulking bag should fit up to seven days' worth of gear, although it's a great weekender for people who like to bring a ton of stuff (uh, we're guilty). It also has a laptop/tablet compartment, a laundry bag, a way to convert its straps to a duffel carrying mode, and even a shoe and underwear compartment to keep things straight.
Protect your valuables, keep your important cords together in one place, and stay organized with this bag that'll hold everything where you need it. Plus, since you'll be carrying it around on your back, you won't have to worry about painful indentations from one crossbody bag on your shoulder.
Sometimes, you don't need a ton of space for your belongings on a trip, but you need a svelte and simple way to carry them all around. Nomatic's messenger bag is a comfortable and functional option that you can take on the go, whether you're heading out on a weekend vacation or a quick business trip.
This messenger bag features a laptop pocket, main compartment, and a front accessories pocket as well as magnetic buckles to keep things together, a waterproof exterior, a roller luggage sleeve, and even a protective case to put your glasses. It's everything you might need at your fingertips, and in a stylish form.
No time to pack your luggage and need to leave on a plane as soon as possible? Grab Nomatic's simply-named Backpack, which is great for both everyday use or taking on the plane or on your next road trip. It features a bottom expansion that takes you from 20L to 24L in a hurry, as well as a 15" laptop pocket.
There's a magnetic water bottle pocket to make sure you stay hydrated, a hidden pocket for valuables, and even a retractable key leash to make sure you don't lose your house key for when you finally arrive back home. Plus, it should work perfectly as a carry-on bag although it's so small, it can also be used as the "personal item" that you can stow away under your seat. Whatever you use it for, it's got you covered.