3 Rain Jackets Perfect This Spring
You are smart enough to come in out of the rain but with one of these, you don't have to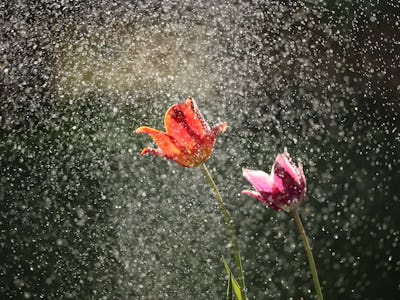 Unsplash / michael podger
When water falls from the sky, you have to make so many decisions: Cancel the picnic? Wear a raincoat? Carry an umbrella? Stay home? Get wet?
Your decisions are enhanced by the right rain gear. Without it, you might find your options narrowed to "Stand under this awning" or "Get wet."
Everyone needs at least one good rain jacket option because rain happens. It could easily be argued that more than one rain jacket is necessary. Because you can't wear that outdoorsy shell over a suit, right? And do you want waste precious suitcase space with a full-on rain coat?
Here are three great rain jacket that will see you through many seasons of rain.
Owning a packable rain jacket changes everything. No more dickering over the weather reports trying to decide if you need to bring a rain coat on the plane. No more getting trapped in a bus shelter, unable to walk down the street without destroying your entrance. Throw this in your suitcase or backpack and it doesn't matter what happens, you will be prepared. If it doesn't rain, you will barely know it's there. If it does, pull it out, unstuff it, and put it on. You will be dry when you arrive.
Sometimes it just rains and rains and you need to commit to wearing a rain coat for the whole day. Or, even, the whole week. And for those times, you want a handsome shell with good pockets so you can get at your phone and keys and look good doing it. You want a jacket that will keep you dry if you are hiking a mountain or biking to work. And that means it needs to look good with your technical clothes and with your work ensemble.
This Ridge Shell will take you into the wilderness. But it will also look great with a pair of slacks in New York City. Versatile. That's what it is.
It comes in several colors. One is certain to go with your wardrobe.
When your rain comes with wind and cold, look to a jacket designer that hails from the North. Native North is a Danish company so it knows about cold, wind, rain, and how to carry on through it all.
This jacket will keep you dry. It will protect you from the wind. And it is built to layer. So it's perfect for a rainy spring anywhere where the temperatures dip to the chilly. And it will be just as useful in the winter and fall.
When the atmosphere really starts to throw stuff at you, pull up the hood, put your hands in the hand pockets, your phone in the breast pocket, and keep on going.