5 Items to Add to Your Wardrobe This Summer
How tattered are your shorts? Do you have any decent shirts for warm weather? You need help! Here it is!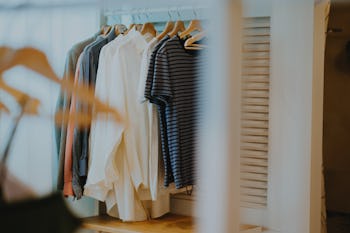 Unsplash / chuttersnap
A man's summer wardrobe is not complicated. Shorts, tee shirts, slip-on shoes. But what do you wear out to dinner? Not the same thing you wore to work in the garden? Right?
Okay, let's fix that right now. Because digging through your closet looking for something that doesn't look like you bought it ten years ago is no fun. Putting on something new that makes you look sexy! That's fun.
Not feeling the polo shirts with little penguins? Over the loud Hawaiian shirts? Go for texture. This supremely soft cotton and poly blend will go from pool party to fancy restaurant. All you have to do is give the collar a little jerk and stand up straight. (Consider changing out of your swim suit, too.) And you are good to go and looking smokin'.
This is hand made in a boutique factory in Belgium. It feels good. It looks good. And it's posh so you can always be dressed up. Or not.
When the weather is hot and humid, you need linen. It's a fabric that was designed for expeditions to the interior and British expats in the tropics. It's perfect for the American South or anywhere where the humidity climbs close to the temperature. It keeps you cool like nothing else. And it is damn sexy on a handsome man. This one is from Portuguese Flannel, a company that makes spectacular men's shirts with exceptional details.
So get it on!
Shorts are so risky. Get it wrong and you look like one of those dorks who sports loafers with tassels or the guy with the man bun who can't stop talking about the wave he caught in '84. eyeroll
These bamboo-lined shorts, in the exactly correct length, from Free Fly, though? These are stylin'. These are comfy and cool, with the four-way stretch and wicking bamboo. But they hang like the fine fabric they are and will take you right from the beach to that seaside dinner place your date loves. You won't even have to change. Well, maybe put on that linen shirt and try to smell nice, especially if you want to be dessert.
Remember when board shorts were cool? They were for surfers and beach bums before those things were an idea we could buy three for $20 at Old Navy.
Well, not so these stylish-retro board shorts. They are made from modern, stretchy materials but the colors, the cut, the strip are all early-days-of-surfing cool. Put away the loud prints. Don't even think about wearing that Speedo. Do this when you goto the beach this year.
You are headed to the beach, climbing into a kayak, hiking a mountain because it's summer and you can. But what do you wear when you want to protect your skin from the sun and wind but it's too hot for anything with long sleeves? This breathable, technical, bamboo hoodie. It's long sleeve but you won't feel them. It has thumb holes so you don't have to worry about your arms and hands getting burned. It has a hood to protect your neck from the sun when you are out on the water for hours. And it's on sale.