This Hybrid Hiking Shoe Is Perfect for Everyday Wear
One shoe that can take your from a meeting in the city to the top of the mountain keeps your life simple and moving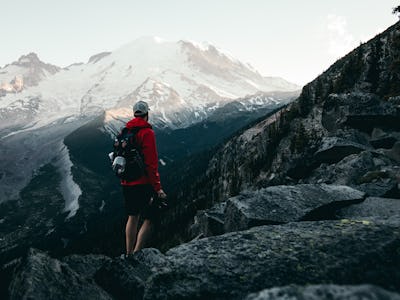 Unsplash / Kal Visuals
Your day starts with a meeting in a downtown cafe. Next up? The office, where you pound out some work from behind a desk. At lunch, you like to take a fast walk through the park to keep your brain and body alive. Then more meetings. At the end of the day, though, you want to climb something. A flight of stairs? A mountain? It keeps you sane.
What is the key to keeping this crazy schedule together? The right footwear. You can't carry a backpack and with a change of shoes in it. Who does that? You need to live lean and ready for whatever happens.
The Caprine Low from Danner will take you through any day that happens.
Danner has been making hiking boots for the most intense outdoor experiences since 1932. But this hybrid is built for the city.
The combination of Nubuck leather and that slick-looking abrasion-resistant, woven textile make for a shoe that will dress up what you are wearing.
But that's just the face it shows the world.
Inside is a ortholite footbed that will keep your feet happy and comfortable. Plenty of cushion. Lots of support. And the Vibram sole is grippy and technical so that once you ditch the investors and staff, you can easily head up a mountain. Your feet will stay happy and cool. You will stay on the trail.
One great shoe that takes care of your feet through everything. That's the way to make it all work. It keeps your life, and your closet, simple.