Ever Wish You Could Text With Your Pet? This Is the Next Best Thing
Talk to your pet, see your pet, even throw her a treat when you aren't even home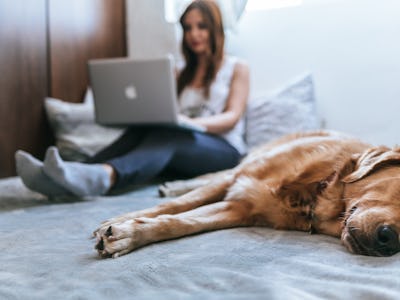 Unsplash / BRUNO CERVERA
What happens when you leave the house? Does your cat dig around in your cosmetics? Does the puppy bark at the mail carrier? Do your hamsters stop pretending to be little fuzzballs, break out of their enclosure, and behave like delinquents? How will you ever know?
One of these devices is perfect for your pet-care and adoration system. Whether you want to play with your cat and a laser pointer while you pretend to work at the office or toss a treat to your pet when you are across town, this is your answer.
Drop the Petcube Play in the room your pet is most likely to hang out in and you have a two-way audio connection and a 1080p HD video connection to your little darling. You can see what he's up to. If he does something fantastically cute, you can grab a clip from online video storage. If he looks bored, you can play with the laser pointer from wherever you are. You can even talk to him so he doesn't get lonely.
We have finally cracked the space/time continuum. You can see and talk to your pet from wherever you are. A bar? Work? Sweden? Yep. But now you can see, talk to, and fling a treat at your pet. That's modern living!
Is it gas lighting, too? It probably doesn't matter since there's a treat involved.
I'm in! Even if I didn't have a pet. I just want to be able to swipe my phone and throw something across the room at home.
Petcube Care is an online recording and storage service that lets you watch — in high-quality video — what happened at home when you weren't there.
It also alerts you if there is activity (motion), the dog barks, someone comes into your house, or the cat is running around like a maniac.
So if something goes wrong — your cat falls from a high place, the dog is whining and crying, anything like that — you will know about it from wherever you are. This can be lifesaving for pets.