5 Self-Cleaning Coffee Makers Worth Buying
Self-cleaning coffee makers just make life easier.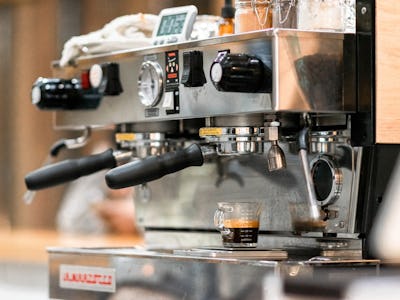 Unsplash
If you're in the market for a new coffee machine, one thing that you may want to keep your eyes out for is the self-cleaning feature. Cleaning and descaling a coffee maker can be a tedious, time-consuming chore, but one that's quite necessary.
Not only will cleaning and descaling ensure the optimal flavor of your daily cup of joe, but it will also prolong the life of your coffee maker.
So now that you know that regular maintenance of your coffee maker is a necessary evil, we'll bet you're more likely to consider one that does the heavy lifting for you. To help you out we've done some digging for the 5 best self-cleaning coffee makers for your consideration.
The Cuisinart DC 3200 is like your coffee concierge from start to finish. Automatic and programmable, with adjustable temperature settings and self-cleaning, what more could you ask for?
With vortex technology for even saturation and an extra large reservoir, the black and decker CM4202S keeps the great tasting coffee coming. Choose your preferred brew strength, and cup size so each cup is just the way you like it. The self-cleaning feature kicks this machine up another notch easily removing the mineral buildup for you.
Klarstein Aromatica Nuovo Termo
Klarstein's elegant machine does it all, so brewing your coffee couldn't be easier. Five stage grinding and adjustable brew and aroma strength deliver a great cup of coffee every time and the self-cleaning feature makes sure they keep coming.
Cuisinart DCC-1100BK is great coffee delivered from a small footprint. Twelve-cup capacity, programmable, and self-cleaning all without taking up all of your available counter space.
Ninja Hot and Cold Brewed System
The Ninja brew Hot and Cold Brewed system is like your own personal coffee house right there in your kitchen. Whether you're in the mood for hot, cold, frothy or iced coffee the Ninja has you covered. To make the deal even sweeter, the Ninja is fully automatic, programmable and self-cleaning. Who says you can't work smarter not harder?