Extremely Nerdy Tees Are on Sale Right Now So Get on It
This sale is happening fast, nerds! If your tee shirts are scruffy and your heroes are losing, get over here!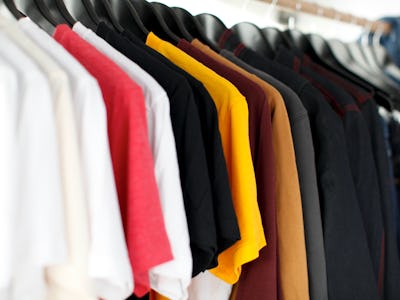 Unsplash / Parker Burchfield
Your Star Wars joke tees are getting a bit tired. Your Blue Sun tee has coffee stains on it. Even that once-perfect in-joke tee (the cartoon octopus with the caption that read "fruity oaty bar") only a handful of people ever understood has seen better days.
It is time to refresh your nerdy tee-shirt collection! What could be more fun than that? I'll tell you what! Refreshing your nerdy tee-shirt collection and saving money at the same time! That's what. So get in here! And get this done!
Here are some suggestions.
Don't oversell it. Everyone who knows you knows this line. They will know who said it. They will know. And that's all you need. Anyone who has to ask? Those are not your peeps. Respond accordingly.
Also? This tee is just cute. The black trim, scoop neck, girly fit. You do not have to conform to a universe that thinks that it only needs to make nerdy tee shirts in men's sizing. Grrr!
Anyway, this one is great. Get it!
Eat the Elephant was a long time coming. "Octopus Heart" is a great song. Whether you were hankering, for years, for the return of A Perfect Circle or you just discovered them with this latest album, show your love with this homage to the song Octopus Heart.
Also, did you know that an octopus has three hearts? And nine brains? So that's pretty cool, too.
Okay, this one is a little over the top. But how could you do a tee of Rick and Morty without going too far? It's self referential, right? At least it doesn't shout their names. Anyone who knows them will recognize you as one of the initiates. Everyone else will think you have weird taste.
For at least one day per week, that's all good, am I right? (Especially at that price.)
Damn! That's classy. And nerdy. Show your love of the ancient origins of WoW with this tiny emblem from Space Invaders. A real nerd knows his roots. And this game was just the beginning.
No giant graphics. No overkill. No spelling it out for the masses. This is one classy nerd tee. Going fast, though. So get in there.
Add this homage to Jinx to your tee shirt collection and it's now a theme honoring early 8-bit gaming. This skull emblem on your chest will show that you don't worship alligators or penguins, you are so much nerdier than that.
The back of this shirt has a bigger, ultra-rasterized, skull and the name of the game for those who might get lost and want to follow you.
Your day will go better if you wear the Elder Wand into it. You will be safer. The world will be safer. And if you are wearing it on your chest, you won't lose it…again!
When you don't know what hazards are in front of you or what evil might come for you, be safe. Wear this.