5 Highest Rated Extension Cords on Amazon
These are the extension cords you should spend your hard-earned money on.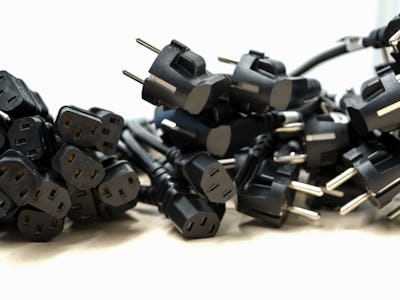 Pexels
An extension cord is one of those items that you don't think much about needing until you realize you don't have one laying around the house. Then it's off to Amazon you go to find the perfect one to fit your needs. Luckily, Amazon is a veritable haven of extension cord goodness, with plenty of options to choose from.
We've gathered some of the best-rated extension cords the service has to offer, from cheap AmazonBasics brands to some of the more popular manufacturers out there. Whether you're just powering up your garage and power tools or need more line for a video game console or fan inside, you can find something on this list that should help you out.
1. AmazonBasics 16/3 Vinyl Outdoor Extension Cord
Sometimes, all you need is a plain and simple extension cord, and this AmazonBasics bright orange cord comes in both 50 ft and 100 ft variants to ensure it's good for just about any situation. Its vinyl covering ensures it won't get too wet or heat up too much in direct sunlight, and it's got a 3-prong grounded plug to keep things extra safe.
It's lengthy, flexible, and you can use it inside or outside, depending on whatever your project may need. Most importantly, it's extremely affordable, with nearly 2,000 positive reviews and a price that means you can buy multiple if you need them.
2. Iron Forge Cable Lighted Outdoor Extension Cord
This heavy duty cable offers 25 feet or bright yellow cord that can be used for just about anything you need outside or inside. It's perfect for gardening, setting up your toolshed, or just getting power to devices in your home. It features a lighted LED socket that lights up to indicate when the cord has power, so you never have to guess.
Plus, its reinforced prongs mean they'll never break or bend, effectively rendering the cord useless. You also get a lifetime replacement warranty, should there be anything wrong with the cord at any point. Though it's water resistant, you could potentially run into damage at some point, so it's good to have that peace of mind just in case.
3. StarTech.com Power Extension Cable
This basic black cord doesn't do anything fancy, but it's incredibly cheap and reliable. It offers 6 feet of extension in case you don't have much you need to power, or just want to use it in your home for throwing up Christmas decorations and the like.
It's great for cutting down on clutter in your home, especially, and it's durable, rated to carry 125 volts at 13 amps. That's just about all you need for smaller projects, which makes it a great choice for in-home projects instead of outdoor - though you could certainly use it for that, too.
4. US Wire and Cable Yellow Extension Cord
This lengthy 50 foot cord comes in striking yellow like many other extension cords, and features a lighted plug to help you know when it's in use or not. It's double insulated, with its insulated conductors surrounded by an outside jacket that won't break or crack, even when extreme temperatures come to call.
You even get a lifetime limited warranty with your purchase, which is great news for anyone looking to power their outdoor tools or electronics. This quality extension cord is one of the most heavy duty you'll find, and it's here to play no games – just look at all those positive reviews.
5. Aurum Cables 12-Feet 3 Outlet Extension Cord 3-Pack
Sometimes, it's not a lengthy extension cord you need or want, but multiple smaller ones. This three-pack comes with 3 outlets apiece, letting you multitask and power just about anything you might need. It even comes with a special accessory loop to hang on the wall or mount, which keeps things looking neat and tidy.
The same philosophy can be seen in the flat plug extension cord it was designed with, meaning you'll be able to save a bit of space when getting your home together – either indoors or outdoors. You even get three of them for the sake of convenience, which is perfect to have in your home, garage, office, and just about anywhere you could need a little more cord.