Upgrade Your Home Decor With These Awesome Items
Lighting, bedding, and other subtle changes are often the elements you need to add warmth and polish to your design ideas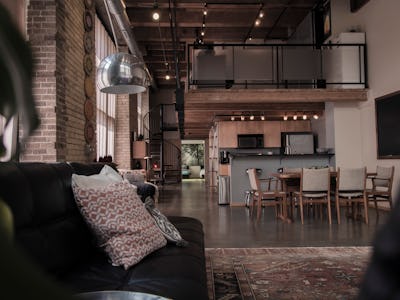 Unsplash / Aaron Huber
Why does your house always seem not quite finished? How is it that you cleaned it this morning and it's already messy? How come, even though you spent a lot of money on furniture, it never looks or feels finished?
The final touches in home decor are subtle. Often they are things you don't notice right away. But they make people say, "It's beautiful in here!" They also help you keep the place in order and offer comfort to your body, eyes, and mind.
Here are 7 items that will take your home to the next level.
If you want to love your home, make your bed a place of sinful luxury. It's where you go for all the best things. Linen sheets are a delicious pleasure that will allow you to more fully enjoy the other delicious pleasures a beautiful and sensual bed enables. These are a lovely, muted blue, like a morning fog but they also come in white.
This complete Queen set is a bit spendy but they will last decades, getting softer and better every year. They'll become your intimate partner in intimate partnering, the place you go for comfort, and where you have the best dreams.
If you are looking to upgrade your home decor, easily and immediately, start here. Hurry, though! They are currently almost $100 off!
Toss out the crappy throws that are making your living room look like a college dorm. A good throw can make up for a lot of decor problems. Is that armchair a bit threadbare? Make it shabby chic by throwing a piece of beautiful, woven cotton over it.
But this upgrade isn't just visual. When you sit on that throw, the chair will feel more luxurious. And when the air conditioning makes you feel chilled, pull it over you. The only thing that will get you out of that chair now is the knowledge that you have a set of gorgeous linen sheets on the bed.
Add a little industrial chic design to your living space with this heavy-duty canvas transport container on wheels. Use it to collect laundry all over the house. Keep it in the corner of your bedroom to toss dirty laundry into. Keep it at the back door for moving wood from the yard to wood stove. Stash it in the corner of the bathroom for dirty towels. Get the kids to push it around and collect all their toys.
It's easy to move and it's the real deal. This is not some flimsy wannabe. It's made in Chelsea, Mass by Steele, a company that has been making canvas storage devices like this since the early 1900s.
Improving the lighting in your home is one of the most effective upgrades you can make. If all your design ideas seem to fall flat, look at the light. Is it too bright? Too focused? Too harsh? Too white?
Add a lamp to give a corner a soft glow and turn off those overhead lights. Better? Now add a nice lamp, with a beautiful arch and the soft orange glow of an Edison bulb. Much better!
This Hanter Table Light by Tom Raffiel is elegant, understated, and very cool. (But the light it gives off is warm.)
Your record collection is a decor item, whether you intended it that way or not. Elevate it to a display that not only invites guests to browse but that also keeps your vinyl organized. The record that's playing gets its own "Now Spinning" spot so you don't lose track of the cover and your friends can easily read the liner notes while you fix drinks.
Beauty and organization, all at once, is the key to home design you can live with.
Bring the outdoors in. The drama of a big plant will completely change the feel of your home, making it feel full of life and warmth. There is something primal about having plants indoors. It might have to do with how much they improve the air we breathe.
This Norfolk Pine is not your standard houseplant. It's big. It's a tree. It smells like pine. And it will look amazing.
Do you have an odd assortment of towels, collected over the years, and hidden away in a closet? Save those for emergencies and hang these in the bathrooms.
A beautiful towel warms up the cold tile of a bathroom and offers a functional beauty to the room.
But the best part of these is how delicious they are against your skin. And they pull the water away with fabulous absorbency. That they dry quickly so they are ready for your next shower is just gravy.