Hiking Gear That Can Convince Even Your Least Hiking-Ready Friend to Come Along
A well-outfitted friend is a hiking-prepared friend.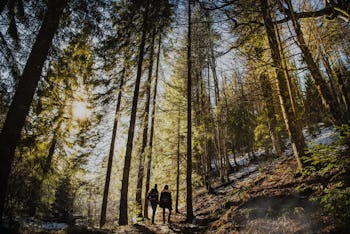 Unsplash / Larisa Birta
Everyone likes to look the part and buying new gear is one of the most crucial steps in getting ready for a new experience. You don't know what you're missing until you experience it and for many of those reluctant to get on board with the hiking craze, they've sworn it off before even trying it. Or more likely, went on one hike not knowing what to expect or what to wear and had a bad time by default.
If you have a friend you've been trying to get to come on your next hike, send them this link. Before you know it, you'll have a friend that's well prepared for a hike and eager to join you on many to come. Soon you'll have a club of hobbyists spending less time watching Netflix and more time moving their legs towards some stellar views.
Below you'll find some great hiking gear that will benefit an unseasoned hiker, a hiking veteran and everyone in between.
The Backpack That Doubles As A Really Big Water Bottle
Why We Picked It: Traditional water bottles can leak, be heavy or just not carry enough water for some of the longer hikes and that can lead to a very uncomfortable experience for the unprepared hiker. This hydration pack from renowned hydration brand, Hydro Flask, allows you to drink cool water up to 4 hours after you filled it and the included High-flow HydraPak® Blaster™ Bite Valve allows you to consume water up to 20 liters without removing your pack. Articulated back panel fits snuggly and comfortably.
The Hiking Shoes That Won't Make You Drag
Why We Picked It: Good hiking shoes are hard to come by. Take the guesswork out of it by going for these spectacular hiking shoes that work like a boot without all the extra weight. These hiking shoes are made out of a single piece of Kevlar to create an upper that won't be damaged by toe nails, branches or other rough terrain in regular wear. The interior is lined with wool and fits like a sock so that you don't even have to wear socks with these. The wool wicks away moisture for dry feet all hike long while the outside remains 100% water proof. The inner midsole will conform to your foot over time for an custom fit that stays comfortable for years to come.
The Shirt That Breathes With You
Why We Picked It: It's easy to default on your favorite gym shirt or think you'll be fine without a shirt. But if you're hiking where it's buggy, or super hot, or very sunny or any combination of the 3, you will miss a shirt. This shirt blends cotton, modal and elastane to produce a shirt that moves with you without any pull and allows you to breathe so that when it comes to the end of hike celebratory hug, you're not drowning your friends in BO.
The Stylish Exercise Shorts That Even Have Pockets
Why We Picked It: Finding good athletic shorts can be just as challenging as finding good hiking shoes. Fit can be wonky. They can be tight in unflattering spots and they can ride at the thighs—making for an uncomfy hike all around. These shorts from lululemon promise to fit well in all the right places and none of the wrong ones. They're water-repellent and quick drying so that you can even take a dip if you're hiking near water. Included zipper pockets along you to safely secure your wallet, keys and phone without worry of loss.
The Hat That Gives Your Head Room To Breathe
Why We Picked It: If you're a hat guy, or you just hate having the sun in your eyes as much as the next guy, it's important to opt for a light colored hat when spending long periods of time outdoors. This duckbilled hat from beloved outdoor brand, Patagonia offers both a stylish light colored hat option but has the added benefit of mesh back panels so your head heat can really escape and you can stay cool.