'Fear the Walking Dead' Premiere Sets Cable Ratings Record
AMC just has to retain, retain, retain.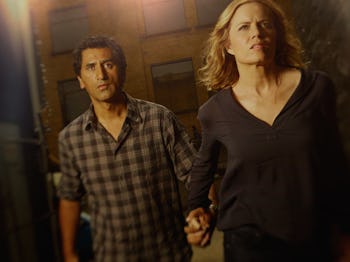 amcnetworks.com
Viewers hit the couches hard on Sunday night when AMC's highly anticipated spinoff series Fear the Walking Dead debuted. The 90-minute first episode brought in 10.1 million viewers, with 6.3 million in the target 18-49 demographic, making it the highest rated premiere in cable history.
AMC is starting to specialize in scoring huge numbers in the spinoff game. Their Breaking Bad companion series, Better Call Saul, was the previous cable premiere record holder in the 18-49 demo with 4.4 million viewers when it debuted in February.
The network now holds three of the top five cable launches of all time, with Fear, Saul, and the original series premiere of The Walking Dead. The original Walking Dead premiere garnered 3.6 million viewers in the 18-49 range when it first bowed in 2010, which remains impressive given that it was, well, original. Fear the Walking Dead is an alternate storyline within the universe of The Walking Dead, telling the story of a family in Los Angeles (instead of the original series' group in Atlanta) who must deal with the outbreak of the zombie virus when it originally spreads.
Fear will run a six-episode first season before it returns sometime in 2016 with a second season, and will set up the next season of The Walking Dead when it returns in October.
Fear's numbers may look impressive, but nothing seems to be able to beat the original. Its ratings have steadily increased in each of its five seasons, with the fifth season premiere setting a ratings record of its own by pulling in 17.3 million viewers overall and 11 million among the 18-49 demo. The 90-minute fifth season finale counted 15.8 million viewers overall with 10.4 million in the 18-49 demo, which was a record for cable season finales.