The Absolute Best Gadgets to Take on Your Next Trip
Before you plan your next trip, make sure you pack these gadgets.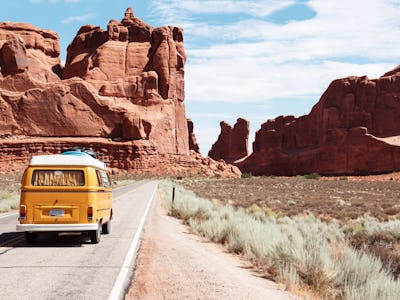 Unsplash / Dino Reichmuth
Traveling can be tough. You're away from your home, and that means you're away from all your carefully-curated creature comforts. You may not be able to sleep in a bed with a perfectly distanced outlet for some before bed scrolling. You may not be near any outlet for extended periods of time and occasionally, and you may be without cell reception altogether.
And if you're as codependent on your phone as we are, this may be a struggle and you may find yourself ill-equipped to handle the world without your safety blanket. It might seem redundant to pack—or purchase gadgets—that your smartphone has built in, but if your smartphone isn't accessible, neither are those convenient gadgets we've come to rely on.
By packing any one of these helpful items, you'll ease the growing pains of distance between your usual comforts. Your vacations might be a little less stressful and chaotic and before long, you might find yourself eager to travel more often.
Below you'll find the best gadgets to take on your next trip—wherever that may be:
For Keeping Track of Your Most Important Items
Why We Picked It: There are people who are incredibly good at packing and there are people who always, always forget something critical. No matter where you fall on that spectrum, you've probably forgotten something important at a bad time. What if you could be a good packer every single time and not have to go through a full personality overhaul to accomplish it? Adero adheres to your most important belongings and pairs with your smartphone for convenient reminders and location services. So if you know you have to pack your laptop charger for your next big trip, just stick it on and set a reminder on the companion app. Then, if your laptop charger isn't in your bag when you go to leave your house, Adero will remind you. Includes a charger, 3 taglets and 1 smart tag.
For Keeping Track of Time When You Don't Have Access to a Charger
Why We Picked It: We often take for granted all of our smartphones do for us. When it's not convenient to have your smartphone in hand, or you're just trying your hand at an unplugged trip, this smartwatch will tell you the time, track your fitness, steps and calories and more without ever being plugged in. Sound too good to be true? The Matrix PowerWatch X uses patented thermoelectric technology to convert your body's natural heat into battery power.
For Studio Quality Sound (and Bottle Opening) Anywhere
Why We Picked It: If you've ever been anywhere and wondered what music would back the scene if you were in a movie, now you don't have to wonder. Dubbed a "rugged" speaker, this speaker is designed to go with you everywhere and bring amazing sound quality with you. Ultra powerful magnets allow you to secure your phone to the top for safe keeping while the bottom is left secure to any surface with the included MagicPlate. Bonus points for the added bottle opener feature so that you have one less thing you have to pack.
For Keeping Your Phone and Devices Charged
Why We Picked It: Sometimes you can't unplug—or you don't want to—and that's fine too. If your next trip will take you out of range of convenient charging outlets, this solar charger will be your new best friend. One full charge can charge your iPhone up to 5 times and an iPad twice. Works with any USB powered device. Designed to be splash proof, dustproof and shockproof, this solar charger is a must-have for your next outdoor adventure.
For Keeping Your Eyes on the Road
Why We Picked It: Whether you're traveling alone or with a not-so-good co-pilot, it's good to have your GPS visible without blocking your or pulling your eyes off the road. With this magnetic mount, your phone can be adhered to your windshield or dash with suction cups and it'll charge while you use it.