Planning on Hiking This Summer? Don't Miss These Must Haves
Get the most out of your hiking experiences with this essential gear.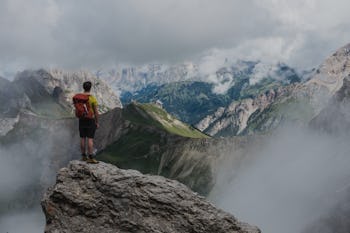 Unsplash / Lucas Clara
Whether you are a seasoned hiker, dating a seasoned hiker or just looking to take on a new hobby, gear is an essential part of solidifying a positive experience for yourself. Take it from the girl who twice hiked 12 miles in steel toed Timberland work boats, you want to have the right tools for the job. It's like deciding to grill but trying to use a plastic bucket full of charcoal—it might work, but there are going to be a lot of easily avoidable, dangerous hiccups along the way.
So if you are planning on spending any amount of time hiking this summer or in the near future, you might as well have good gear. It could be the difference between a hike with lots of stops for shoe tying, pack adjustment and other slowdowns and a very efficient walk to the view of a lifetime.
Below you'll find the best hiking gear for a summer's worth of great hikes.
The Proper Pack for A Proper Hike
Why We Picked It: Perfect for those destination hikes you have to road trip or fly to get to, this Mystery Ranch backpack is the ideal weekend bag, carry on and hiking pack all in one. Everything has a place thanks to the isolated shoe compartment, dirty laundry compartment, dividied internal compartment and clam shell zipper. Padded sleeve and adjustable straps will allow for a comfortable fit that distributes weight evenly. Available in Foliage, Black and Coyote.
The Camera That Will Perfectly Capture The View
Why We Picked It: How are you going to convince your least-eager friend to join you on your next hike or prove to your parents that aren't just off galavanting in the woods on your weekends if you don't have photo evidence? This camera bundle includes everything you need to take professional quality photos and video of your adventures that will prove to be the envy of all your friends. Start taking your best photos yet with the Rylo camera, invisibile grip mounting system, adventure case, 16 GB microSD card and included cables for whatever device you'd like to sync to.
The Convenient Leather Wallet Perfect For Travels
Why We Picked It: As great as it would be to truly leave home with nothing but the clothes on your back, life sometimes gets in the way. Get as close to that as possible with this super-minimal leather wallet that'll hold all your essential personal effects and none of the additional baggage. I use one of these in my day to day life and I'll never go back to anything else.
Comfy Shorts Ready for Action
Why We Picked It: Perfect for anyone who prefers a looser, more comfortable fit that still moves with you, these Highline Shorts have two-way stretch that won't pull or chafe as you move. The DWR coated fabric repels water so that you're never uncomfortable while the two front zip pockets keep your personal effects within easy reach without risk of loss.
The Technical Shirt That Shows Up Regular Shirts
Why We Picked It: When you move, your clothes should work with you, not against you. The four-way stretch fabric, combined with seamless knit construction, Celliant® technology and SilverTech threads will allow you to stay comfortable, energized and dry throughout the duration of your entire hike. If you've been wearing regular shirts this whole time, you'll have to try it to see the real difference in the technical construction of this futuristic exercise shirt.
The Hiking Shoe That Doesn't Feel Like A Hiking Shoe
Why We Picked It: As I said, I twice hiked in heavy work boots before getting the message that good hiking shoes really weren't optional. These hiking shoes are no joke. The 100% waterproof construction is owed to the one-piece Kevlar upper, while the integrated speed cable laces allow you to find the right fit for your foot so that you feel your most secure. The interior wool sock liner allows you to wear these shoes without socks as it wicks away moisture of a comfortably dry experience every time. Like all hiking shoes, there's a minor break in period, but after that the soft, supportive midsole will mold to your foot for the perfect fit.
The Water Bottle That'll Keep Your Water Refreshingly Cool
Why We Picked It: Even if you're not as on top of hydration as you'd like to be, I promise you'll get really thirsty at some point during your hikes. Make sure you have cool water in your pack with this Hydro Flask. At 32 ounces in capacity, you'll have enough water to hold you over for a short hike and it'll stay as cool as the moment it was poured for up to 24 hours. The properietary powder coated exterior allows for an easy, sweat-free grip and the lifetime warranty protects your water bottle forever. Not that you'll really need it… if owned mine for over a decade now and it looks as good as when I bought it.