Survive Work This Summer With These Wardrobe Essentials
With these simple additions to your wardrobe, working through the summer gets a little easier.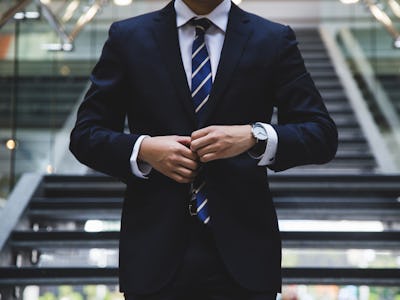 Unsplash / Hunters Race
At some point, you grew up. You stopped having 8+ weeks of summer vacation and you got a job that demanded you work through everyone's favorite season. It sucks. But it can be a bit more tolerable if you have clothes that bring you joy, comfort and a dapper boost. You don't need to go through an expensive full wardrobe overhaul to start feeling better about your clothes.
With the simple addition of some impactful, utilitarian and classic pieces to your existing wardrobe, your day-to-day style can get a major refresh. Feel good about your clothes and you'll start to feel more confident. More confidence might allow you to take more intiative at work and before you know it, you're so busy and productive you may find that 5 o'clock sneaks up a lot sooner. Good things come from good clothes.
Below you'll find some great men's clothing items to add to your wardrobe for a revitalize summer work look.
The Linen Blazer
Why We Picked It: With summer being the season of doing things, chances are you're going to social gatherings straight from work more often than not. Do it effortlessly with this timeless linen blazer that will make you feel like you're in the Hamptons, even when you're not. The cotton-linen blend affords that extra breathability you need during the hot summer months without sacrificing a composed business casual presentation.
The Everything Shirt
Why We Picked It: Perfect when paired with a blazer or worn alone, this is your go-to shirt for summer. Truly your everything shirt, this is the shirt that makes it look like you're put-together without demanding a lot of additional frills like a tie or buttoned up collar. Made by popular surf brand, Mollusk, this shirt will have you feeling like you're on the beach—even when you can't be. The linen-cotton blend promises you won't overheat on your commute or during the work day.
The Light Colored Shoes You'll Love
Why We Picked It: Handmade by six generations of Italians who know what they're doing, these premium leather slip-on shoes are aged for 30 days in a mixture of water, oak bark and powdered mimosa. Summer gives you the opportunity to opt for lighter colors than you'd wear in the winter and these tan leather shoes are the perfect neutral addition to elevate any wardrobe. Wear sockless for that much-needed summer feel.
The Classic Watch
Why We Picked It: Some people like to wear a watch that says "I'm wearing a watch, please look at my wrist," but that's not necessarily the most approachable fashion choice. For someone who wants a more classic, yet understated watch they can wear with anything without feeling dominated, this 40mm watch with classic leather strap is the perfect wardrobe accessory for anyone who just wants to wear a watch.
The Comfy Pant
Why We Picked It: These are the pants you wear when you don't want to wear pants. Pair it with a t-shirt, button up or matching Vetra blazer for an updated take on the leisure suit. Dual-stitched back pockets and dual-side chino pockets will give you the pocket space of jeans while the cotton-linen fabric makes you feel like you never left your pajamas in a good way.