7 Beach Essentials You Need to Bring With You This Summer
Don't just show up for sea and sand. Show up prepared so you can outlast the tourists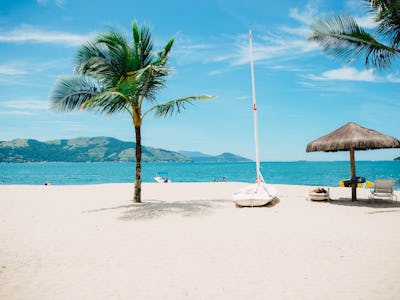 Unsplash / Elizeu Dias
A day at the beach requires preparation. You can't just breeze out there and expect to survive the heat, the hunger, the thirst, and the sun without supplies. But you don't want to be one of those dorks who drags an entire covered wagon full of crap you'll never use across the sand, either.
There is a sweet spot of preparedness. It's minimal but effective. You need everything in that bag. You don't need a team of mules to haul it. This is your go-to summer beach essentials list. Shop it. Pack it. Be ready.
You don't have to drop a lot of coin to get a pair of sunglasses that let you see and protect your eyes from the sun. Whether you need prescription glasses or just a pair of cheaters to wear in the sun, this pair — the Warby Parker Aubrey ($99) — will look amazing on you. It comes in four colors. When you stare out at the sea, you will actually be able to see the dolphins this time. No more pretending you can see what people are talking about. And when staring at the sea gets boring, read a good book.
You need to protect your face from the sun. Wear a hat! This one is perfect. Wide brim? Check. Crushable so you can jam it into your beach bag until you get settled on the sand? Check. Washable? Yep. Cute? Oh, yeah.
Honestly? You probably need several of these to get you through summer. And, fortunately, it comes in 11 colors so you can stock up.
The cotton big brim folds up or down so you can get the protection and look you want. And it, amazingly, holds it's shape whatever you do to it.
The beach blanket is such an important decision. Any blanket you commit to this will be sandy and, therefore, useless for all other purposes. Sure you could bring an old sheet but that doesn't give the place you staked out on the sand any authority at all. This turkish cotton quilt, on the other hand, looks great, doesn't take up too much room in your beach bag, and washes easily. And at that price, it doesn't matter that it's sole purpose in life is to make you look good at the beach.
If you plan to stay out there on the sand for any length of time, you will need to hydrate. And you might meet some people and want to share. THe pup might get thirsty, too. Go big. This Klean Kanteen Wide Mouth 64 ounce single-wall aluminum bottle is leak proof so you can fill it, drop it in your bag, and have water when you need it.
Water is one thing. But you also need some adult beverages out there, right? Don't haul a whole cooler and ice just so you can have beer out there. Fill this Klean Kanteen Double Wall Growler at the brewery and toss it in your bag.
It won't leak, it keeps the beer cold, and it won't explode from the carbonation. Best part? It fits in your beach bag. No wait, the real best part? No beer cans to litter up the beach. Because you are better than that.
Klean Kanteen Double Wall Vacuum Insulated Stainless Steel Growler
Klean Kanteen Double Wall Vacuum Insulated Stainless Steel Growler
There are a lot of beach chairs out there. But if you go to the beach often, you know that carrying a crazy big comfort chair to the sand is not all that worth it. You want something light that you can wear on your back so you aren't limited to the patch of sand closest to your car.
This. Easy to carry, low to the sand, turns into a backpack, and has a cup holder. The basic model. It's all you need.
You applied sunscreen before you left the house, right? This is for your beach bag. Because once you are wet and sandy, applying sunscreen is like sanding your skin. But you have to do it or you will get burned! This La Roche-Posay brand is the best sunscreen you can get. But it's in a spray can. Perfect!