MARVEL Collect! by Topps Provides Glimpse Into Nex- Gen of Digital Collectibles
Build the ultimate MCU collection and trade with other fans with MARVEL Collect!.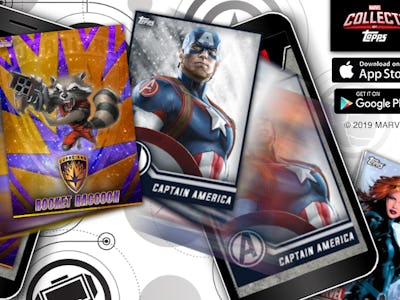 Tops | Marvel 
Only a few short weeks ago, Topps introduced what is a small glimpse at what's to come in the world of digital collectibles with MARVEL Collect! by Topps. Aptly launched alongside Avengers: Endgame, the new free-to-play title for iOS and Android offers an immersive collectible world that makes the MCU universe more accessible than ever, allowing users to build the collection they always wanted by trading cards of both classic and cinematic Marvel characters with other fans across the world.
The incredibly intuitive UI is impressive and allows for a premium user experience within the app. Users, in addition to creating the ultimate MCU collection, will have a Collection Score that will increase over time as they trade, collect and complete various actions throughout the app. It's a truly unique experience in the world of collectibles. The UI also allows a level of personalization as users can choose a classic comic character avatar and showcase their favorite cards on their profile page for other collectors to see.
One of the most exciting and engaging features in MARVEL Collect! are collector and trading-based missions. These daily, weekly, or longer-term missions not only increase a user's Collection Score, but also result in receiving rewards in the form of coins, an in-app currency that allows the user to buy additional card packs. Looking for free cards to add to your collection? You can claim Mystery Boxes throughout the day or spin the digital card wheel that provides a card with every spin. If you have lower-tiered cards, or duplicate cards, the Card Fusion feature allows users to combine these cards to receive a higher-valued card or special insert. Finding a use for these lower-tiered cards is a welcomed feature and an improvement for most collectors.
It's clear to see Topps Digital is setting out to build not only a fun and engaging digital collectibles app, but also a community of fans to collect, trade, and connect with one another, appealing to newcomers just being introduced to the world of digital collecting and the hardcore, devoted collectors out there.
With its already-extensive set of digital card collecting apps that span across popular sports, TV, and movies, the addition of Marvel to Topps' catalog not only feels natural, but also makes for a legendary team up between two iconic Americana brands. With Topps Digital 2.0, you can expect even more feature additions to expand the idea of what a digital collectible really can be.