The Best Compact Backpacks That Are Selling Out Right Now
Snag one of these backpacks before they fly off the shelves.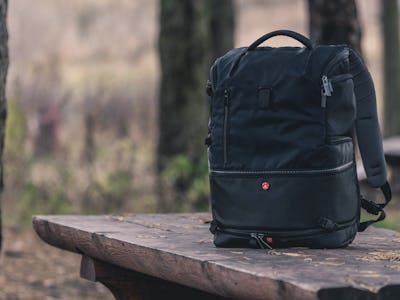 Pexels
Need a reliable bag to take everywhere you go? One of these popular choices may very well do the trick. These best-selling compact backpacks are smaller than your average carry-all packs, but they're large enough to hold all the essentials you could possibly need. If you've ever heard of the phrase "small but mighty," these bags fit the bill perfectly.
Whether you need a backpack to toss your laptop in for your daily commute or just need a place to stow your overnight essentials, these popular backpacks should fit your needs quite nicely. But you'd better grab one fast – they're selling like hotcakes. 
1. Carhartt Legacy Compact Tablet Backpack
Carhartt is a reliable name in sturdy, rugged gear, and the brand's backpacks and other gear don't disappoint, either. This compact tablet backpack is perfect for carrying your favorite tablet or laptop as well as a series of other essentials. It has a large main compartment and dedicated tablet pocket as well as a zippered area for smaller items like keys, your phone, and even a side pocket for water and pens. It weighs only 1 lb., though it's made out of water-repellent material to keep your belongings safe. If you love Carhartt coats or their other products and rely on them for occurrences in your daily life, this backpack is a safe bet as well.
2. Kensington Triple Trek Slim Backpack
This flashy-yet-understated backpack is an attractive riff on the typical compact backpack, with fleece-lined compartments perfect for tablets, laptops, phones, and more. The fleece will keep your larger screens scratch-free, while the hidden pocket will ensure your valuables like keys and wallets are safe. Its adjustable shoulder straps and padded back support are enough to keep you feeling comfortable while wearing it around short or long treks about town, and its grab handle can also be used as a trolley strap if needed. On top of all that, it has a sleek, attractive aesthetic that should go perfectly with all your other accessories, whether you're using this backpack for carting around work materials or just hanging out with friends.
3. Incase City Collection Compact Backpack
This low-key backpack is understated, but has all the comforts you'd expect from a slimline bag. It's perfect for any commuter or anyone looking for a minimalistic twist on the typical selection seen throughout most retailers. It features a 360-degree padded faux-fur lined laptop compartment to keep your electronics safe, a slim and comfortable design, and outward construction made from 270 x 500D blended wave polyester. It has a wide variety of compartments and a zippered top pocket for quick storagee as well as comfortable, adjustable straps. It's a little on the pricey side, but you get what you're paying for here in terms of durability, comfort, and some seriously styling looks.
4. Swissgear Compact Organizer
Swissgear is another trusted name when it comes to bag and rugged commuter products. This narrow profile backpack is no different, featuring plenty of space, a main compartment with a tablet pocket, front organizer panel with divider pockets for you to store the important items from your wallet, and even a small side mesh water bottle pocket. Lugging it around all day won't be a chore, either, as the back has a padded mesh panel meant to help keep you cool and comfortable, even if you're carrying around what essentially amounts to a mobile office on your back.
This affordable yet durable backpack from hardware manufacturer Lenovo was built with keeping your electronics safe in mind. It features a solo laptop compartment with plenty of pockets for mobile devices, smaller electronics, and other goodies, and a quick access zipper pocket on the front to keep other incidentals. It's also low-profile, slim, sturdy, and professional-looking. If you're the type of person who hates carrying backpacks, this particular model is more like a nondescript, classy bag you'll love to take from work to school and everywhere in between. It also comes in a variety of sleek colors.