It's Time for Vacation Planning. The Best Travel Accessories for Your Next Trip.
A little planning and organization can go a long way towards making a good vacation great.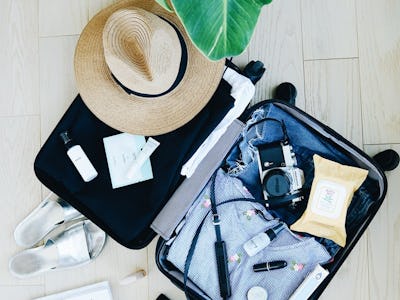 Unsplash
Summer is fast approaching and you know what that means. It's time to throw caution to the wind, take that vacation you're in desperate need of and forget all the rules.
But you might want to hold off on letting your alter ego out until after you've arrived at your destination because there's no greater record scratch to an awesome vacation than forgetting your passport on your nightstand or having the TSA take away all your stuff at the gate.
The fact is, planning and organization are the two things that will ensure you have a great time whatever your travel destination might be. To get your organizational juices flowing we've put together a list of the best travel accessories for your next trip.
If there was ever a travel pillow that checks all the boxes, this is it. The Metene travel pillow inflates with the touch of a button and deflates just as easily. The pillow itself provides raised neck support and has a velvety soft, machine washable cover for superior comfort. When you're ready to disembark the pillow can be rolled into the super compact carrying case allowing you to exit the plane without getting tangled up with bulky pillows.
ProCase Travel Passport Wallet
Lost tickets or forgotten passports can bring a great vacation to a screeching halt. To avoid unwanted complications you would do well to keep all important documents together, ideally in a safe place. The Procase Travel Passport wallet organizer will help you keep all of your essential travel documents in one place. The durable fabric and double zippers will ensure that the items within remain clean, dry and protected. The case is also equipped with RFID blocking material to protect you from electronic pickpocketing and identity theft.
Etekcity Digital Hanging Luggage Scale
The Etekcity Digital Hanging Luggage scale takes away all of your souvenir shopping anxiety. Now there's no need to worry whether that vase you loved would end up costing more than you bargained for. This one is a must if you want to avoid overweight fees at the airport.
Bose QuietComfort 35 II Wireless Bluetooth Headphones
Forgetting your headphones is one way to kill your vacation buzz fast. There's nothing like a snoring seatmate to knock your excitement down a few pegs. If there's one thing that deserves a post-it note reminder, it's a good set of headphones. With three levels of noise cancellation, a 20 hour battery life and superior sound quality the Bose Quiet Comfort 35 should be your constant traveling buddy.
If you're one of those people who need to pack everything but the kitchen sink, the chances of fitting all of your stuff into one bag are slim to none. The bag bungee is for you my friend. The bag bungee is a heavy duty, high elastic, rubber band that allows you to securely attach an item of luggage to your wheeled luggage. The sleek design allows it to slip easily into your luggage when not in use.
Genius Pack High Altitude Flight Bag
When it comes to long flights you may want to settle in and get comfortable. But perhaps the worst thing you can do is put anything in the pocket of the seat in front of you. Let's face it by the time your flight is over, you'll probably be blinded by your desire to get off that plane. The odds are very high that you'll forget whatever you left in that pocket. The Genius Pack High Altitude Flight bag may your best defense against lost items. Just hang the genius pack on the seat in front of you, everything you need will be within reach and you surely won't forget it on your way out the door.
ProCase Travel Gadgets Organizer Bag
Ok, it's 2019, whether we're traveling 50 miles or 500 miles you know we can't risk our connectivity to the world. Yes, folks, I'm talking about cords, chargers, earphones and the like. We all have them in spades and wherever we go they go. But the small size of some of these items makes them quite easy to lose. The Procase Travel Organizer can fix that. Durable fabric, zippered pockets and an elastic strap to keep the Procase closed to ensure that all of your electronic accessories remain safe in your possession.