3 of the Best Pillows You Need for a Better Night's Sleep
Drift off to slumber with the most comfortable pillows out there.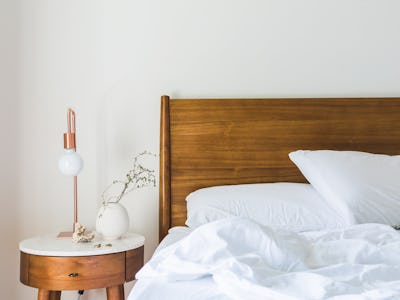 Pexels
Sometimes, getting a good night's sleep all comes down to finding the perfect pillow. You need one that's not too firm, not too soft, and one that can cradle your head (or upper torso, however you decide to sleep) in a way that feels best for you. That's why we've compiled three of the best pillows you can find to give you one of the best night's sleep you've had in some time.
Whether you sleep on your back, side, or even find yourself hugging a pillow throughout the night, one of these choices should work perfectly for you. Just don't be surprised when you have trouble getting out of bed the next day. 
1. EPABO Contour Memory Foam Pillow
Whether you sleep on your backside, or stomach, the EPABO Contour Memory Foam Pillow offers comfortable, therapeutic relief as you lay your weary bones down to sleep. Made of a breathable material meant to help keep you cool and dry (you know we all sweat at night at some point), it's raised at the bottom to help support your neck with a removable piece of memory foam that can be adjusted to your needs. It's perfect for just about any picky pillow user, no matter what kind of sleeping patterns they happen to have. It may take a bit of getting used to, but its overall comfort should trump that adjustment period.
2. Bluewave Bedding Ultra Slim Gel Memory Foam Pillow
This dense pillow is constructed out of supportive memory foam that's infused with cooling gel particles that help to regulate any sleeper's temperature. Since most memory foam isn't particularly breathable, this pillow uses "open-cell memory foam" to add ventilation and keep air circulating while you sleep at night. Its inner cover and outer cover are washable and constructed with 40% bamboo and 60% polyester to help wick away moisture and keep your pillow smelling fresh. Most importantly, it features a low profile to help better align your spine and shoulders. It also has that chill blue color that's positively dreamy –not that you'll be looking at it, of course, but it certainly looks the part in terms of cooling ability, right?
2. Snuggle-Pedic Ultra-Luxury Bamboo Shredded Memory Foam Pillow
Snuggle-Pedic Ultra-Luxury Bamboo Shredded Memory Foam Pillow
This snuggly pillow lives up to its name, as it was created for all varieties of sleepers and features a finely shredded mixture of foam that's meant to fit all the contours of your spine to support you no matter how you decide to fall asleep on a particular night. Its bamboo cover is breathable and soft, plus it's removable to wash if you end up drooling all over it at night since you're sleeping so well (trust us – it happens). You canteen adjust the pillow's fill by purchasing more foam if needed from the Snuggle-Pedic company, which means you can make it fit your needs rather than just settling for how it comes from the factory. This makes it both a unique and useful purchase that anyone can adapt to.