These Are the Fastest Smartphone Chargers You Can Find
These chargers will charge your devices faster than the others.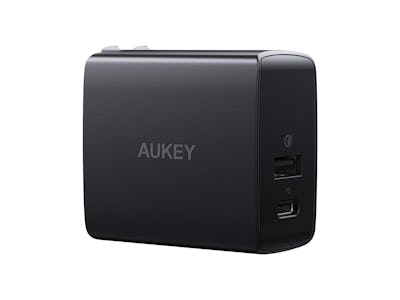 Amazon
To compensate for the lack of genuine improvement in battery technology, advances in charging speed for existing batteries is included in nearly any high-end portable consumer electronics like smartphones and some headphones. The trouble is, much like wireless charging in its infancy, there are two main wired fast charging standards to choose from Qualcomm's Quick Charge and Power Delivery (and others in between), which means you have to be sure that you have compatible equipment to charge your device as fast as possible.
Below are three of the fastest chargers you can find to pump juice into your electronics.
Anker USB C Charger (Power Delivery)
Anker is responsible for some of the best chargers around and if you're looking for a solid Power Delivery option, this a good place to start. The 49.5 watt charger allows for both Power Delivery charging at up to 30 watts, allowing you to charge iOS devices as fast as the phone will allow. It'll also allow you to charge more powerful devices like iPads and Macbooks, thanks to the high wattage output.
In addition to the USB C port for PD charging, there's a USB 3.1 port for Anker's own Power IQ fast charging. This doesn't make it completely compatible with Quick Charge devices, as the charger will need to specifically support the standard, but it will charge devices at very least the regular 5W charging speed.
RAVPower 45W USB C Power Delivery Charger
RAVPower is another great name behind some of the best chargers available, whether their wired or wireless. This particular 45W USB C Power Deliver charger is somewhat similar in features to that of the Anker option above. It can charge a Macbook and iOS devices, but it's impressively small — about 50% smaller than a Macbook's AC charging brick.
The charger touts some great adaptive features with Power Deliver 3.0. It can automatically detect the best charging efficiency for whatever device you plug in between 5 different levels (5V / 3A, 9V / 3A, 12V / 3A, 15V / 3A, 20V / 2. 25A)
AUKEY USB C Power Delivery & Quick Charge 3.0 Charger
Have both Power Delivery and Quick Charge devices? Aukey is to the rescue. This 18W charger may not be as blazing fast as the above two options above, but it provides both popular standards of fast charging. This is ideal if you have both iOS devices that support the Power Delivery and other devices with Qualcomm chips inside that support Quick Charge, like the Samsung Galaxy lineup and other major Android devices.
Another great aspect of Aukey's charger is its price. Due to it's lower output, it's quite a bit cheaper than the RAVPower option that only offers Power Deliver, albeit at more than double the output.