Update Your Grooming Habits With These Items
You aren't a kid anymore. You're a man. Men have grooming rituals. Get some!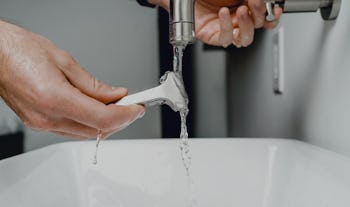 Unsplash / Patrick Coddou
Men and grooming. Why is that you think it's frivolous to choose your products with care? Who convinced you that men don't stop for a moment, asses what's needed, and apply it (or remove it) with care?
A man who can tie a tie, shaves with expert precision, smells of leather and Bergamot, chooses grooming products because they reflect his sensual preferences as well as his budget, is expressing his masculine self in an everyday ritual.
Don't rush through your shower with the cheapest soap and shampoo you can get your hands on. Do this with intention.
You might find you enjoy it. And you are very likely to find that someone else enjoys you.
I'm about to let you in on a secret. This is something that no woman who has turned you down will tell you: Scent is a big part of what makes men attractive.
No, we don't want you to smell like you never wash. But slathering on a drugstore cover-up scent improves nothing. Also? Antiperspirant is bad for you.
So, what to do? 
Well, shower, for one thing. And then accept that you have a scent and maybe do something to enhance it. Like this, perhaps? It smells like wild herbs, leather, pipe tobacco, and wood. Add your own dash of clean, sexy male to that? Even if it's hot out and you just chopped wood: Yum!
Don't blame the barber if your hair hangs in your face making you look like Shi Tzu in need of a groomer. Product, baby! Product! Use it! You can make even a bad cut work with the right pomade.
Rub a little in your hands, rub your hands through your hair. Suddenly, you look good! Your hair is out of your face. It stays where you want it. And, when she leans close to ask you a question, she catches a scent of Cedar and citrus, making her want to hover a little longer.
Got a beard? This works for that, too.
Take your shaving ritual old-school. You will never go back to rubbing cheap drugstore soap on your face in the shower and hoping for the best again.
Work up a lather that smells like vetiver, lavender, clary sage, cedarwood, and blood orange. Apply to your face with this soft, natural, Portuguese boar hair brush.
All of this will last ages and look, in your bathroom, like an actual man dwells in your home.
This is a far cry from zapping foam out of a tin.
Bathrooms without bidets in them are, frankly, barbaric. You laugh, now, especially if you are also Googling bidet to be sure you know what a bidet is. But, after you replace your toilet seat with this bidet, you will be converted — and horrified that you have gone your entire life without one.
A bidet like this makes you wonder how we got here, frankly. All of Europe and Asia have bidets. But not Americans. Is this a holdover from pioneer days? Are we, actually, barbarians?
A quick shot of clean, every time you go. A quick and thorough clean up after sex. A level of cleanliness, for the bits that need it most, that comes with having indoor plumbing. These things are not too much to ask!
This one is easy to install, inexpensive, and also has a blue light so you don't have to turn the light on in the middle of the night.
Get one.
I thought I was up on the soap game with my citrus scents. But this Pike's Peak scented soak from Ethics Supply Co. has me hanging my head in embarrassment at that hubris. Soaps that smell like places? Wow. An activated charcoal soap that looks and smells like Pike's Peak? No words.
The soap developers (is that a real job title, you think?) go places, create soaps to smell like those places, then go back with the soap to confirm they nailed it. I feel like, if this is really a thing, (It obviously is!) that we have evolved as a species.
This soap smells of pink granite, wild sage brush, and mountain juniper. And that jagged shape at the top? That's is a relief of Pike's Peak.
Damn. I'm buying some of this. How can you not?
Don't go to Target and buy those little bottles to fill with the shampoo and conditioner that's already in shower. Up your grooming game for the road. See what happens! Maybe it's the thing that will change everything?
This box is complete with a wash for all of you — hair, body, face — a facial cleanser, a shave cream, and a moisturizer. Yes! A moisturizer. You can still be a man and take care of your skin. The elements are hard on it. People beat on you. Life is hard. Take a minute to heal.
Everything in this box smells good and will indoctrinate you into this rebellious brand of personal care products. When you return from your travels, you will be hydrated, handsome, and a man who believes daily rituals are worth honoring with products built with integrity, science, and natural ingredients.