These Are the Best Sneakers and Slip-Ons for This Summer
Dorky comfort shoes? Flip flops? Nothing but running shoes? You can do better. Here's how.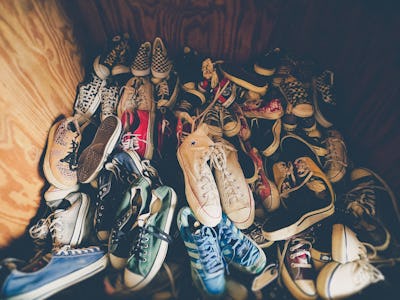 Unsplash / Jakob Owens
Summer is, among other things, a chance to unfetter your feat. Get them out of those hot, dorky work shoes you've been wearing daily for months. Let them feel the sand and the earth! Walk in something lighter!
If this idea conjures visions of your closet, full of running shoes from past years and flip-flops you bought to wear in the shower at the gym, maybe it's time to rethink your footwear game? Just because you identified a running shoe you like, does not mean you can never wear anything else.
If you find yourself saying, "Hey! These are comfortable!" when people ask if you inherited your shoes from your grandfather, that's an even better reason to consider something new. (Did you inherit those from your grandfather?)
Shoes say a lot about the wearer. What do yours say about you?
Island-themed Olukai Footwear gets summer because it's always summer in Hawaii and the Polynesian Islands. The Nohea Moku convertible slip-on gives off a refined casual vibe. But it wears like an athletic shoe — the kind of athletic shoe you wear on a tropical island, where you might get wet any minute.
Slide the heal down and slide into them on in a hurry. Secure them and run to the beach. They look awesome. You will look awesome in them.
This is a great looking shoe. A bit Star Trek but totally wearable and hip. But that is not its main strength. Keeping you cool with that perforated microfiber body might be the best part. Or is it the simple lacing style so you don't have to sit down and tell everyone to wait while you put on your shoes? No! Wait! It's the soft, comfortable lining and insole. Or maybe it's that you can get all that for this great sale price?
We get you. You love your running shoes. They were designed so you could forget about your feet and go fast. But consider this: When you aren't running, wear something that evokes the early days of the sport, when Steve Prefontaine (Pre! Pre! Pre!) was wearing shoes that looked like this to the Olympics. His shoes were developed by his coach, who later founded Nike. These are inspired by runners like Pre, from the 70s, but made in Italy by Atalasport, a premiere maker of athletic shoes. They are an ultra-comfy combo of leather and canvas.
And they say, about you, that you know your running roots.
How many pairs of Chucks Taylor's have you owned, over the years? Maybe it's time to go for something with a more interesting past? Colchester Rubber Company made the very first shoe designed for basketball in 1892. The game was invented near headquarters. That shoe looked a lot like this one. Colchester closed its doors permanently in the economic panic of 1893 and that shoe was never made again.
But in 2004, the people that made this one — which you can buy and wear — found an original Colchester in an estate sale. That led to research, which led right to this great-looking shoe being available from the new Colchester Rubber Company. Victorian-era styling remade in modern materials for comfort.
This, right here? This is some high-tech footwear. Nano fabrics — like the stuff of technical raincoats — are used to create this ultra-flexible but waterproof body. So you can wear a shoe that is light, comfortable, breathable, and completely waterproof. Oh, did I mention they stretch? So, there's that. Is there anyone that doesn't want all of these things in their footwear?
They are also slick looking. But, you know, like something you might wear in the future. As in, after you place an order and they arrive!
Okay, let's talk dress shoes. Do you hate dressing up because it means you have to force your feet into something harsh, shiny, and uncomfortable? No. No. No. This is what a dress who looks like if you're Italian and therefore comfortable looking gorgeous. It isn't cramped and uncomfortable. It's soft, hand made, aware of the its own impact on the Earth, and — above all else — simple. Perfect, yes. But also simple. These are an amazing price for this sort of light, packable, perfection in a shoe.
Let's face it, the main thing that gets in the way of going outside is your slippers. You like them. They feel good on your feet. Your mind resists the idea of taking them off. Solution! Get shoes that wear like slippers and go outside in those!
These are that shoe. You will feel like someone if about to call you on it, wearing your slippers in public. But they won't. Because, on the outside, these shoes look like sneakers. Nice ones, at that. So you're good, outside — or in the store — with your slippers on. This is totally legal.