The Best Wireless Speakers to Bring With You While Traveling
The best portable Bluetooth speaker for on the go travel.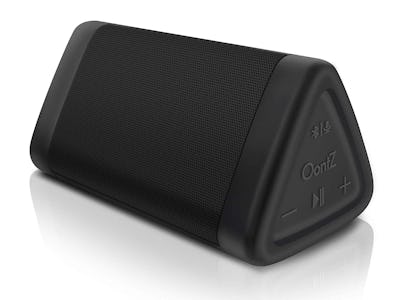 Amazon
If you're traveling or on the go, your smartphone will most likely be your go-to device for music. With headphones, they're the perfect companion, but even the best handsets with front-firing speakers are no match for a legitimate portable speaker. If you're in the market for a wireless Bluetooth speaker, we've compiled a list of some of the best at various price points below.
Boom 3
The Boom 3 isn't the cheapest Bluetooth Bluetooth speaker out there, but it's also far from the most expensive. It's a well-rounded speaker that pushes out your beats in 360 degrees with balance sound and bass. It's water-resistant, allowing for it to be submerged under 3 feet of water for up to 30 minutes, so it's beach day-friendly. Done up in a two-tone fabric and multiple colors options lets you blast your tunes with a personalized touch.
A single charge will last your 15 hours on the Boom 3, and you can also grab the optional charging dock for wire-free charging.
Bose SoundLink Revolve+
Coming from Bose, no one would blame you if you assumed one of its portable Bluetooth speakers was A: expensive or B: high-quality in every way. For the Bose SoundLink Revolve+, both assumed are correct. Easily the most expensive speaker on this list, the SoundLink Revolve+ boasts the high-end sound you'd expect from Bose, but in a small package that you can take with you that will last for 16 hours on a charge.
The build quality of the speaker is superb. The base is constructed out of aluminum, and a flexible fabric handle sits at the top so you can easily carry it around. It's water-resistant, with an IPx4 rating, allowing you to take it to the pool without worry. Once paired with a smartphone, you can easily take calls or use voice commands via Siri or Google Assistant. Now, whether that's worth the price tag is up to you, but you at least know you're getting a solid product by a brand that's known for sound.
OontZ Angle 3
If your price range is the exact opposite of the Bose SoundLink Revolve+, you're in luck. Not only does the OontZ Angle 3 provide solid sound, but bests the Revolve+ in a couple of areas. In fact, it's the #1 best seller in Bluetooth Speaker on Amazon.
The Volume Booster 10+ watt power AMP is surprisingly loud for the the size of the speaker, and you should get about 12 hours on a single charge. If you're willing to listen at about ⅔ the volume, you should be able to squeeze 14 hours out of it. As with the other speakers on the list, it's water resistance, with an IPX5 rating, which is a step up from the $300 Revolve+. Oh, and did I mention it's under $30?
With 5 colors options and a price that's unbeatable, it's no surprise this tops the list on Amazon.
Sony SRS-XB31
Another name that's known for high-quality sound, Sony's SRS-XB31 is a solid option for those who want a great audio experience without crossing the $100 threshold. It also bests much of its competition in a few ways as well. First up, you can get up to 24 hours of playback on a single charge, which is very impressive, allowing you to literally party all day and all night. Speaking of partying, the speaker also features a multicolored light and flashing strobe light, because why not? Another area the XB31 bests other speakers is its IP67 rating, making it completely dust tight and able to be immersed in 3 feet of water for 30 minutes.