10 Amazon Prime Products That Everyone Should Be Buying
Amazon has everything. But sometimes, it really makes the most sense to get it there. Easier, faster, cheaper. These are those things.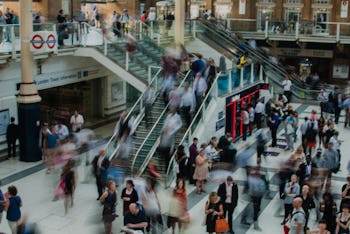 Unsplash / Anna Dziubinska
Life is too short to spend it running errands to get life's daily necessities. You have a phone in your hand. Get it to do all of that work for you! Batteries, light bulbs, wardrobe staples, dog food, an assistant? It's all in there, ready to jump in a box and come to you.
Here are the life's essentials that everyone should just buy on Amazon so that weekends can be better spent sleeping late, going to brunch, and puttering in the garden.
You have to get dressed every day. Wouldn't it be great to have a drawer full of tanks that look good on you, layer for various looks, wash well, and cost less — for the whole drawer full — than you spent on that fancy dinner?
These are that. Lovely fabric and style. Versatile. About $10 each.
No need to shop all over town for the right linen shirt for summer. No need to try and make one or two make it through the week because they cost so much. Here is a 100% slim-cut men's linen shirt in 10 colors for a price that's hard to argue with. Get one for every day of the week. Summer wardrobe sorted.
Amazon Essentials Men's Slim-Fit Long-Sleeve Linen Shirt
Amazon Essentials Men's Slim-Fit Long-Sleeve Linen Shirt
Did you just pilfer a battery from the baby monitor to use in the remote? Yeah, stop living like that. You don't have to make a shopping list, remember to put batteries on it, go to the store, and remember your shopping list for this. Just order a mess of them from Amazon. Now you have batteries.
You need a dress sometimes. A maxi dress is great. Wear it to a wedding. Wear it to brunch. Put on sneakers and wear it to the grocery store. But do you really need to spend a day tracking one down? Do you want to drop $100 on one? Nah, this one's great. Order it now and it'll be there in a couple of days. It costs less than brunch.
Cussing and tearing around looking for someone to blame for the lack of replacement light bulbs when a bulb goes out is not productive. You know that bulbs will burn out. Have some on hand. Here is a 24 pack of soft white 60 watt, LED bulbs. All you have to do is click buy. Easy. Problem solved.
Sure, you could make a date out of going to the pet store to stock up on dog food. But that approach has some hazards: The dog will want a present. And your SO will want a new kitten.
So, in addition to the dog food, you now have fluff all over the floor from the stuffed animal Fido killed, you got into a fight, and someone has to clean the litter box. Order the stuff from Amazon and you'll get dog food, delivered on your schedule.
Want to add another Echo to your house? Hankering to get in on the AI assistant craze so you can ask aloud for the weather, time, a joke, to have a book read aloud to you, or to have the lights turned on or the garage door closed? Here is where to start. This is on sale, which only happens a couple of times a year — if that. Get it now!
Salt is a kitchen essential. But have you been buying the stuff in the super market? The world is full of wonderful salts that elevate your food. It comes in pink, grey, and black. It comes from the sea, from seaweed, and from lava. Once you start experimenting with salt, you will wonder what you were thinking back when you just bought it once a year and added it without thinking. This fine Pacific Sea Salt from the San Francisco Salt Company is a great place to start.
Just hear me out on this one.
Why don't American bathrooms have bidets in them? They are amazing! And anyone who has been to Europe or Japan comes home looking for a way to add one to their own bathroom.
There are expensive toilet seats out there that add a jet of water and convert your toilet to a bidet. They also cost a small fortune. But you don't need expensive. You need this. It installs easily (if you are or know someone handy), taps into the hot water coming to your nearby sink, and is a complete game changer when it comes to your personal ablutions. Clean up without toilet paper or getting into the shower. Get cleaner. Be cleaner, all the time. You get me, right?
Since you have the toolbox out anyway from installing the bidet (above), why not upgrade the shower, too? Are you still suffering at the mercy of water that only falls on your head from above? You can do better, you know. And it's super easy. In this case, it's also inexpensive. Why not take a real shower, one that feel good and gets all of you clean.