5 Items to Upgrade Your House This Summer
Level up your home this summer with these five awesome picks.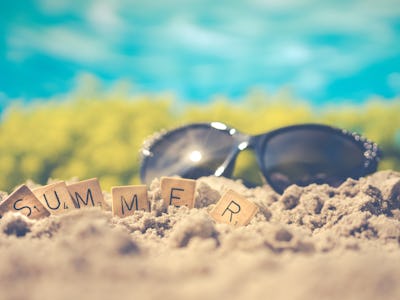 Pexels
Summer is finally here, and it's time to shake those winter doldrums and give your home a slick new look. Bring out the airy new bedsheets to avoid those sneaky summer sweats, swap out that old wicker chair for a newer, hipper lounger, and do a little reorganization with a few new pieces of furniture.
With the sun shining down from above and the days stretching longer than ever, summer is the most convenient time to revamp your house and give it a serious upgrade. Looking for a few quick ways to jumpstart your pad into looking and feeling cool to beat the summer heat? We've got you covered.
1. Acapulco Leather + Brass Lounge Chair
Lose that boring old easy chair in the guest room and grab this leather and brass lounge chair to impress any visitors that come your way. It's a statement piece that's sure to impress, and the most exciting part is that you can basically guarantee your neighbors won't have gone out and purchased one. Plus, its breezy nature makes it great for indoor and outdoor use. Let's be honest – have you ever even actually seen a chair that looks like this? Probably not, right?
When the sun's out, your grill should definitely be out. What's summer without a footlong dog and baseball, after all? But if you don't have one, you can't really get in on all the grilling fun your neighbors might be having. Remedy that and start some hot dogs, hamburgers, and plenty of other delicious cookout food sizzling on this affordable and attractive grill. With a double-burner stove and domed steel hood to seal in heat, it's a great choice for those late-night hangout sessions you plan that end up lasting well into the night. Plus, it's easy to clean long after those carefree summer nights are over.
Find a new place for all your summery shoe options, like those gladiator sandals you've been hoarding for when the sun came out to play. It's simple, minimalistic, and simple to assemble – and even though it's a very understated design, it's leaps and bounds beyond kicking your shoes off into the corner as soon as you get into the door, right? When summertime rolls around, you'll be rocking some awesome heels, flats, thong sandals, and all kinds of other footwear that'll be swapped in and out as often as the wind blows. Get more organized (and give your guests a place to put their shoes) with this attractively-designed rack.
These tiny little plants are bring a little taste of the outdoors into your home, so even when your hike is done for the day or you don't quite have time to sleep out under the stars, you've got three reasons to smile. Each garden you receive is packed with plants sourced from Los Angeles, California. You'll get them in a nice little planter gift box that's ready to display anywhere you'd like around your house, which should make for a nice little accent no matter where you decide to place it. It's a very simple way to liven up your home at a relatively low cost, even if you're not really into the gardening life yourself.
Drop the flannel sheets for something light and airy. With high temperatures, night sweats are bound to happen, and huge blankets aren't the ticket when you're trying to sleep in the middle of a summer night. These sheets are durable and woven with 100% cotton to keep them strong and lightweight. Plus, the more you wash them, the softer they git. The set comes with a fitted sheet, flat sheet, and two pillowcases in the size of your choice, and even come with a "top or bottom" indicator to keep you from having to guess which way they go on your bed. Jump into summer with some of the airiest sheets around – and it'll be like a cool breeze is blowing into your bedroom in the dead of summer every single night.