'Ballers' Recap: Dwayne Johnson Is a Flamingo
Resolution abounds in the season finale.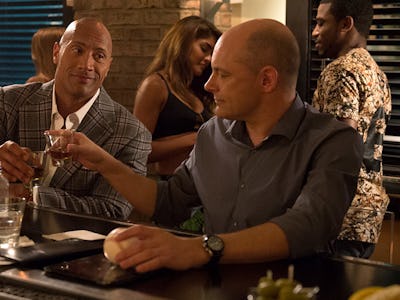 Last night's 'Ballers' season finale delivered resolution. While a few developments found unexpected solutions — say, Spencer's reasoned plea that Joe remain at Anderson Financial instead of starting his own shop — most of "Flamingos" was that major key shit you've come to expect from this beloved franchise. We will miss those chords and the ballers playing them, but also revel in the promise of season two: Someone might actually play football.
This episode has a lot going on, so let's get into it. Ricky's father, a football legend of some variety who is never recognized by anyone, asks his estranged son to lay off the "fuck you, dad" stuff, and Ricky softens his stance on his old man. (He even gives up his dad-shaming number, 18, to Alonzo in a final brokering of peace between the two.) Charles, with a baby on the way, gets a contract with the Dolphins. Vernon's contract limbo, which is sort of self-imposed, also comes to an end when the Cowboys up their guaranteed offer. Jason and Spencer win out, and Vernon makes amends with the AWOL Reggie.
The rest of the episode is pomp. Anderson promotes Spencer and gives him an office befitting a true fucking Baller, which he has sex in. Anderson fires Joe, but Spencer convinces Anderson to bring Joe back into the fold; Anderson relents and gives them a speedboat, as one does. Ricky emerges at training camp riding a camel, reveling in his newfound state of mind and living up to his larger-than-life persona. (Conspiracy Theory: Ricky isn't a receiver because that's an illegal number for a receiver to have.) Spencer also gets a new assistant who feels like she's gonna be a thing.
Though this show is messy at times, it's a fun ride. Weird shit show up — that long scene involving Her? Joe spilling his emotions out to his coke dealer? — Hail Mary style then just disappears. At times, you wonder if you're living in a side universe, a galaxy where you don't quite understand football and seemingly important plot details are never mentioned until they become important for the dramatic arc of the episode.
This is Ballers y'all, and I'm ready for Ballers "two-point-fucking-O."