7 Products for Pets Who Were Meant to Be Astronauts (and Their Owners)
Headed to space on a pet-friendly ship? Here's the gear you need to pack.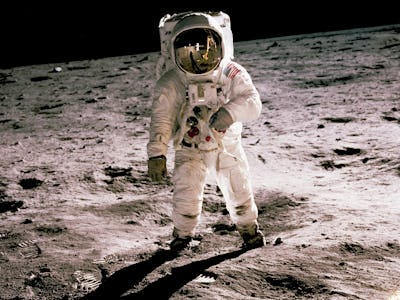 Unsplash / History in HD
You spend a lot of time together, you and your pet, and you know each other well. If it has become obvious to both of you that you should be astronauts, rather than terrestrial animal and human pair, it's time to start shopping. Your day might come at any time. Space travel is not as challenging as it once was.
Here is the gear you both need to fuel your dreams of space.
Give your pup — or any pet under 13 pounds — a view of where you are going — on Earth anyway. Keep your own hands free to deal with tickets and luggage. When you two are taking a break, en route, unzip the expandable panel and give your pet some room to move around without risking losing her. Bonus points for offering a glimpse of cuteness to the other travelers you encounter.
This adorable little pup obviously works at NASA. He's wearing a shirt that says so. His work is, no doubt, essential, involving tracking or scent IDs or something very dog-nerd. You will have to ask him when he arrives.
Astronaut Wiener Dog Dachshund Cosmonaut Raglan Baseball Tee
If your pet is — or aspires to be — an astronaut, support her with this shirt proclaiming how proud you are of her accomplishments and dreams. It's not easy to be a space-bound-wiener dog. The helmet this little dog wears on the way to work is only one of the many physical challenges of space travel.
A simple reminder that walking the dog on another planet requires a lot more gear than it does on earth, so pack accordingly. You can't keep the pooch cooped up on board all the time, right. But what about the light years it takes to get to the other planet? Where does he 'go' then? You can contemplate these — and other questions of the universe — when this print is hanging on your wall.
This double-wall stainless steel travel mug is graced with the adorable visage of a Corgi who knows he's bound for space. He has his helmet, suit, and a plan. Your own pup will have heroes worthy of his affection if you two go places with this mug.
Rest your head on your cat's dreams and maybe they will come true? At least you will acknowledge that a cat that dreams of space travel is your soul mate. This is a set of two pillowcases printed on the fuzzy polyester side.
Adorable space-themed hair clips that both you and your pet can wear to show off your affection for the off-worlds. Four hair pint, each with a different space image. Except the rabbit, which is here — we assume — because it, too, wants to be an astronaut.