The 10 Hottest Selling Tech Items on Amazon
These items on the enormous retailer's website are practically sizzling.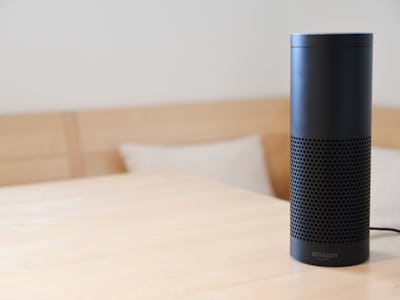 Pexels
The sheer amount of products on Amazon can make your head spin, especially when it comes to tech. What's worth spending your hard-earned cash on in the realm of gadgets and other pieces of tech on the massive website?
Though it all largely comes down to what's popular in general right now, we've rounded up a sampling of some of the items that tend to fly off the digital shelves, so to speak. While some are fairly obvious, others are a bit less easy to guess – especially due to their age and pricing.
From Amazon's flagship virtual assistant products like the Echo Dot to the handheld console hit Nintendo Switch, these are some of the hottest selling tech products that can be found on the massive online retailer.
The Echo Dot is Amazon's smallest entry-level piece of tech that can get you access to virtual assistant Alexa, so if you're interested in starting up an initiative to make your home a little smarter, this is the easiest way to go about it.
While it's devoid of some of the more useful features like the Echo Show's screen, it can still help to schedule appointments and reminders, let you chat with friends and family, and order all the Amazon products you could ever need. 
2. Fire TV Stick 4K with Alexa Remote
Alexa functionality is available on the 4K version of Amazon's popular Fire TV Stick, which lets you watch your favorite shows and movies when you want to. Just plug it in and go. That's probably part of what makes this such an in-demand item, especially since the price is right. Its 4K feature also means you'll get to watch compatible TV series and movies in the highest possible streaming quality available just yet.
Nintendo's best-selling console/handheld hybrid has been doing exceedingly well since debuting in 2017, so it's no surprise that it's one product that consistently flies off of Amazon's shelves. With a massive library of games, a high-definition screen, and the backing of some of Nintendo's iconic franchises behind it, it's one console that everyone is looking to get their hands on. Its unique spread of games for both casual and hardcore gamers ensures that there's something for everyone on the system. It's no surprise, then, that it's in such high demand.
Regular books are so last decade. Amazon's Kindle Paperwhite is an affordable way to read some of your favorite books on the go, before heading to bed, or whenever you feel like it. This particular version has a high-resolution display (300 ppi) and comes in two different memory sizes to fit your needs with both 8 GB and 32 GB options available. Its backlighting is adjustable and you can purchase one that works with Wi-Fi or cellular connectivity if you prefer, so you can
The Wyze Cam is an affordable smart home camera positively filled to the brim with features. It works with Alexa, for one, so if you've already built up a home with Alexa's different machinations at its core, this camera will fit in perfectly with what you've already got set up.
It also includes night vision, two-way audio, and motion and sound detection with a free 14-day trial of cloud storage so you can save any footage that you happen to record. At this price, it's likely popular because people snap them up to beef up their home security network.
Tablets can be pricy, but Amazon's perfectly capable Fire 7 Tablet is a sound investment, especially for just $39.99. It comes in three colors and two different denominations of memory as well, so not only is it affordable, but it's customizable.
With Alexa support, a perfectly capable front-facing and rear-facing camera, and 8 hours of battery life, it's a cheap and easy option for anyone in the market for a tablet. That's probably why it's consistently remained on Amazon's top sellers list in terms of tech.
7. Apple AirPods with Charging Case
Apple products are obviously always in pretty high demand, and Amazon is selling the previous model of the manufacturer's AirPods pretty readily. These simple-to-use earbuds connect to your phone automatically and offer 5 hours of listening time with just one charge.
After a quick 15-minute charge in the charging case, they'll get 3 hours of battery life as well. They're absolutely worth picking up if you're looking for a reliable pair of truly wireless headphones, and it's clear that quite a bit of others are doing the same thing since they're Amazon best-sellers. 
For anyone who doesn't have a Fire Stick, the Roku Express is the next best bet, as it supports all your favorite apps like Netflix, Hulu, and everything in between. It's simple to hook up, doesn't require HDMI cables, and can be accessed by a free mobile app that includes both voice search and other options that make it simple to watch a wide variety of TV shows, channels, and movies. The remote has all the buttons you need to get to services like Google Play and Sling as well.
You've got to be extra cautious these days about answering the door, as you never know who could be on the other side. That's why the Ring Video Doorbell is such a useful product. Like many of the other top-selling Amazon products, it works in tandem with Alexa to send announcements to the devices in your home when someone presses the doorbell or when motion is detected. It also lets you see, hear, and speak to anyone who visits your home without having to open yourself up to any potential danger.
When you're away from home and someone is detected, it can send alerts to keep you abreast of what's going on when you're not in your house as well. It's a bit pricey, but it's a small price to pay overall for peace of mind.
10. Logitech Wireless Keyboard and Mouse Combo
Everyone can use an extra keyboard and mouse, and this $20 duo is a great choice for starter tech or just keeping a spare around. The full-size keyboard and mouse make it simple to work elsewhere in your home without having to sit at your desk, and when you're done using it, the receiver unit stores inside of a storage compartment in the mouse. It also features programmable hotkeys to ensure you're staying as productive as possible. It costs about the same as a few Starbucks coffees a week, so it's really not that big of an investment, either. That's likely one reason people flock to it as one of Amazon's best-sellers.