Extremely Cool Tesla Gear We're Drooling Over
Your Tesla may be parked but you still have these in your hand or pocket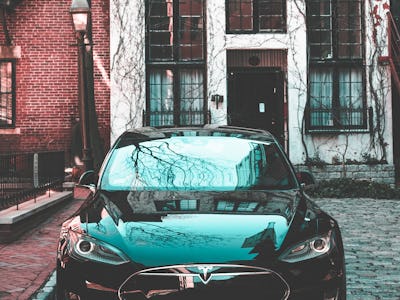 Unsplash / Alex Iby
You bought the car! Or maybe you just want to buy the car. Either way, you need the merch! Wear it. Drink from it. Play with it. This is a very cool piece of technology, an amazing car, and a cult. And you are embracing all of it!
Here is the gear you need to be that Tesla hipster.
If that black on matte black logo isn't cool enough for you, you are out of our league. Straight up awesome. Must own. Must wear.
One for the garage. One for your desk. If you don't have one in the garage — yet! — you can still have one on your desk. This this small-scale, die-cast replica Tesla is awesome in and of itself. Just don't let anyone catch you making those car-noise sounds with your mouth. The Tesla doesn't do that!
Well, that makes a coffee mug look great, doesn't it? The matte black. No words because the Tesla logo is plenty. Subtle, muted, necessary. Pass the coffee, please, because we want us some of that!
Accessorize, accessorize, accessorize! This Tesla phone case will be cool every minute of every day and you will be just basking in its glow. It's a wallet, too, so you it will keep you organized and together, as well. Now if only you could get Tesla branded credit card to put in there.
Did you fail to order one of these when you ordered your car? They take ages to get, apparently, from Tesla. But they do have them at Amazon! You'll need an electrician to install this but then you will be able to charge when you are home, which — obviously — you need to do. Fast delivery. The real deal.
Are you really going to get behind the wheel of your Tesla with your beverage in another stainless steel tumbler? You bought the car. Go ahead, buy the overpriced merchandise to go with. In for a penny, in for a pound.
This is a replica Model S, not a toy car. The detail is incredible. And while the price might seem high, this is a collector's item and, perhaps, a piece of history. If you could somehow shrink yourself down to tiny doll size, and add a battery to this, you could have saved yourself a lot of money by driving this instead of the actual Model S.
Obviously, you need this for your garage or parking space. You don't want your teenager parking his beater in the Tesla spot. Can't have the hoi poloi getting in your space, either. Scare them away with terrifying threats!
It isn't your car till you have the hat to go with it. Honestly, this is a great hat even if you don't have the car. Not one of those trucker hat's that lower your IQ, this is a great hat, in a wearable color, with a subtle announcement that you are a Tesla cult member.