10 Products Only for People Who Begged Their Parents to Let Them Go to Space Camp
Now that you are a grown up, you can make every day just like the Space Camp you imagined!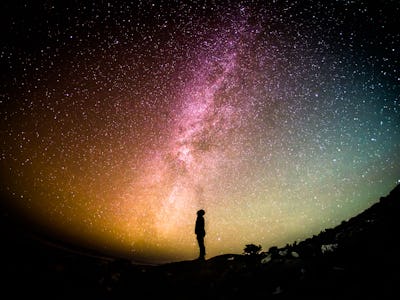 Unsplash / Greg Rakozy
Space camp?! Do you remember the first time you heard of it? Your brain went crazy imagining a place where you floated through each day in Zero G, you suited up to leave the ship, slept in a bunk that could be ejected in an emergency, and called your fellow campers, "Captain" and "Ensign." While everyone else — in all the other lame summer camps — were doing macrame, you were developing new botany methods for non-Earth atmospheres.
If you got to go, you might have been startled to learn you were going to Alabama and not Alpha Centauri but that accomplishment still put you in the elite few who's relentless begging accomplished the ultimate goal.
You are a grown up now. You don't have to beg anyone for anything. You can just do it. Space Camp? Maybe that's for kids. But you can live the dream every day.
Now that you know this exists, how can you not? Put it on your own floor and live every day knowing that one wrong step will have you hurtling through space. Or put it someone where in your workplace, dorm, or apartment building to give everyone around you a moment of transcendent alternative reality on their way to where they're going.
If you lived in space, you would sometimes go outside and watch the Earth rise, perhaps missing the smells, sounds, people, and life forms. Hang this vision of that world on your walls and who's to say that isn't your life now? Reality starts with dreams, right?
Give that blank wall some perspective. Instead of accepting that there is another person living on the other side of that wall, how about if all that noise was being cause by meteors, space craft, and a great expanse of infinite black. Open your windows to that.
A series of choices led to you leading the life you have. What if you'd made different choices? Could that be your phone in the hand of that American astronaut suited up for a walk on a planet with an atmosphere that can't support human life? Set your phone here, and think about the possibility.
He sits to contemplate the data on his tablet. You sit to contemplate the data on yours. How different your worlds are. Or are they? Maybe he's scrolling through Facebook while waiting for a ride back to the mother ship while you sit in your living room doing the same?
Black leggings are so yesterday. Galaxy leggings are totally tomorrow. While everyone else is going to yoga or just living life in fitness wear, you are going boldly where no one has gone before.
Anyone who dreamed of space camp has already watched The Expanse, at least once. But have you read the books? No? It's time to get on that. Here is a boxed set to fix that problematic situation while you wait for a new season.
Why carry the cat to the vet in an ordinary cat carrier when there is this? Ready to take your feline to space or just to get some shots, it will allow you to see in, her to see out through the porthole, and everyone to know that you two would have come off of the Sulaco together, even if the Aliens killed everyone else.
Don't do boring gifts. Wrap other people's presents in your own dreams. How else will you persuade your friends to get on the spaceship with you when it finally arrives? Share the dream!
When you turn the lights out, this wall decal will light up, offering moonlight to your interior. It will stay lit, slowly dimming, for five hours. This might be the easiest way yet to make your life feel as if you are living forever at space camp because you just peel off the backing and apply it to the wall.