Sunday Lectures | 'Game of Thrones' Economics, Unique Humanity, and Saul Bellow
Get smart without getting out of bed.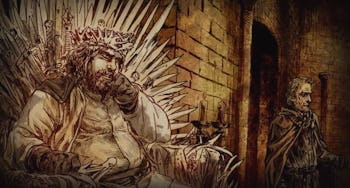 https://www.flickr.com/photos/bagogames/
Sunday Lectures is a weekly roundup of the internet's most interesting educational videos. Get smarter without getting out of bed.
Psycholinguist Steven Pinker Outlines Unique Human Traits
Sometime over the course of the Earth's history, evolution made the sudden leap that produced upright-walking, speech-using, highly intellectual humans — but are we really that different from our great ape cousins? Steven Pinker thinks so, outlining here what sets us apart.
A Tribute to Saul Bellow
This year, Saul Bellow would have turned a hundred years old. Here, writers like Jeffrey Eugenides and Ian McEwan pay homage to the Nobel Prize-winning author of The Adventures of Augie March and Humboldt's Gift with excerpts and analysis from his most beloved works.
The Economics of 'Game of Thrones'
In Westeros, the game is simple: Win or die. Thankfully for the less ballsy among us, modern society has moved toward a less totalitarian philosophy. But GoT remains a useful thought experiment because it allows us to ask big questions about the ways our politics develop: What happens when centuries-old social institutions, customs, and norms suddenly disappear? How do we rebuild? Here, Dr. Matthew McCaffrey of the University of Manchester discusses.