The Summer Essentials Everyone Is Buying on Amazon
Beach, please! Are you even sand -- or pool -- ready? Here's what you need to hit the summer sun the second it arrives.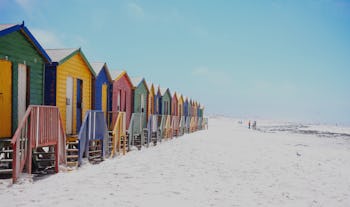 Unsplash / Arno Smit
That happened fast! A few minutes ago there was snow. Now it's May and the sun is out. It's time to get ready. Sunscreen? Beach towels? Chairs? Yeah, that's right. You can't go to the beach in the jeans and black t-shirt you've been sporting for months.
We've got you covered. We found all the essentials — and some things you want even thought they aren't all that necessary — to get you set for summer.
##Turkish Bath and Beach Towel Set
These are the BEST beach towels. They dry fast, are big enough to lie down on, and you can wear them as a cover up. A set of 6 for a totally doable price? Oh, yeah. And you can fit all six in a load of laundry with lots of other clothes. These will make your summer stylish and dry.
Best. Sunscreen. Ever! Goes on easily. Feels nice. And seriously protects your skin. Slather this on yourself and anyone you love because sunburn — and skin cancer — are the real hazards of summer.
This chair will become your operational headquarters on the sand. Hang your towel on the back. Keep a cold beverage in the cooler and another in the cup holder. Hold court with your head resting easily on that cushy headrest. It's also easy to carry since it becomes a backpack when folded.
Take your day drinking to the sands. This will keep your white wine cool. And the kids will never know that you owe your good mood to a fine Pinot Gris. Set it in the sand and it won't spill or warm your beverage. Toss it in a bag and it won't break. Honestly? How did you get through winter without this?
Beach reading forever! Can't decide? Just put every single book on here you hope to read. It can handle it. (Or sign up for Kindle Unlimited and read all you want for $10 a month.) It's waterproof so you don't have worry if someone tosses you in the pool.
Ouch! Too much sun? Spray this soothing, hydrating mist onto your poor fried self and feel better. Nothing artificial in here. Smells good. Loaded with aloe.
Get out of the sandstorm. Shelter from the sun. Give the baby a place to nap. Make the beach less harsh. This is your home away from home for the day. It sets up quick. Breaks down fast. And is easy to carry.
Is it really summer if you don't have a new pair of flip flops? No. It really isn't. These are not the flimsy rubber ones you wear in the gym shower. These you could wear to dinner after a day at the beach. Arch support included, in case you have been listening to your podiatrist.
Upgrade your beach bag to something sturdy that will not only carry everything but will keep what's inside dry! This one is made from waxed canvas. It's huge! It has pockets to keep your tech safe. And it stands up on its own so you can pack it by tossing things in from across the room. Hard to beat for the price.