The Best Headphones for Long Flights
Headphones are a necessity for log flights.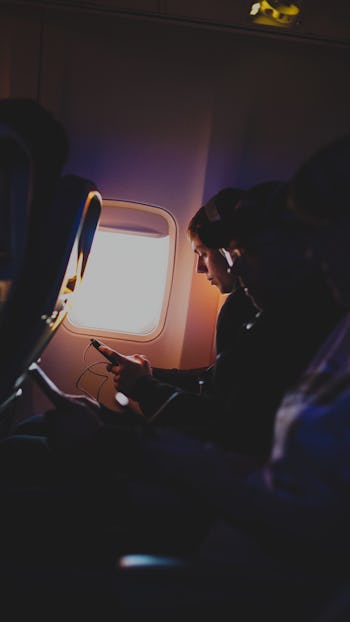 Unsplash
If there's one thing you should never forget for a long distance flight it's your headphones. Whether you're just looking for entertainment or you need to drown out the sound of someone eating Cheetos behind you, headphones are a necessity.
When it comes to choosing the best headphones for long distance flights there are quite a few things to consider. More than likely you'll want headphones that are compact, lightweight and comfortable, but they should also deliver good noise cancellation and, of course, great sound.
We've done some digging and here's what we found.
Bose QuietComfort 35 Wireless Headphones II
The Bose QuietComfort 35 is a comfortable, over the ear headphone that offers 3 levels of noise cancellation and well-balanced sound. It's lightweight and has 20-hour battery life which makes it a great option for traveling.
Sony Noise Cancelling Headphones WH1000XM3
The Sony WH1000XM3 comes equipped with adaptive sound control, the headphones can detect your activity and adjust the sound and noise canceling levels accordingly. The atmospheric pressure optimizing delivers great sound quality even at high altitudes and the Sense Engine system gives you virtual surround sound. With 30-hour battery life, these headphones are ideal for long distance travel.
With its Pure Adaptive Noise Canceling, Beats Studio 3 lets you block out ambient noise even when you're not listening to music. The Studio 3 was designed for long term wear and users have noted the absence of ear fatigue. Add that to 22-hour battery life and foldable headset this one a smart choice for your next red-eye.
Bose QuietComfort 20 Acoustic Noise Canceling Headphones
With their first in-ear noise canceling headphones the Bose quiet comfort 20 provides superior noise canceling that can be turned on and off with the touch of a button. The proprietary Stay Hear+ tips form a seal to your ear, further contributing to effective noise cancellation and great sound. Batteries can last 16 hours on a full charge and the lightweight, compact design makes it a must-have for long distance traveling.
Sennheiser Momentum 2.0 Wireless with Active Noise Cancellation
With large, thick ear pads, and collapsible frame the Sennheiser Momentum 2.0 gets high marks for comfort and convenience. When you add in Bluetooth technology, superior sound, and 19-hour battery life the Sennheiser Momentum becomes an excellent choice for long flights.
Bowers & Wilkins PX Active Noise Cancelling Wireless Headphones
Perhaps not the biggest in brand names, but the Bowers & Wilkins PX is still a great option. The Bowers & Wilkins headphone offers three settings for adaptive noise canceling. Whether you're on a long flight or just walking around the city you can choose the best setting to effectively block out the noise. Fifty years of experience in acoustics allows for an exceptional sound experience and twenty-two hours of battery life makes these headphones one of the best options for the long haul ahead of you.